Plumbers in Castle Hill NSW rescue puppy trapped in drain
Two plumbers in Castle Hill rescued a puppy found trapped in a drain on Monday and has adopted the puppy as their company mascot
A plumber in Castle Hill NSW has rescued a puppy while installing a hot water heater at a home in the area last Friday.
Jordan Asad was working at the property which is currently vacant due to renovations when he thought he heard a baby's cry coming from the drain. "I thought it was a human baby and when I peaked down into the drain, I realised it was a dog which looked exhausted and was just curled up into a ball."
He called his boss Richard who quickly came to the scene to help him get into the drain and perform a valiant rescue. They shared a meat pie with the dog before taking him to the RSPCA in Lidcombe who advise the puppy is underweight and shaken but is otherwise unharmed.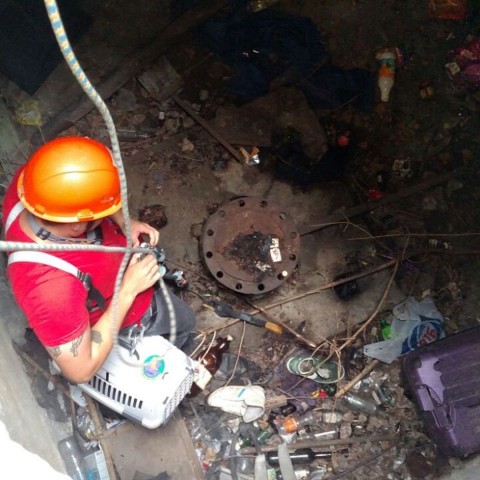 The puppy was discharged on Tuesday and is currently staying with Jordan "I've named him Mas which means drain in Lebanese, he isn't microchipped so we can't trace him back to the owner which means he will be my partner on the road when I go out to do plumbing work until someone claims him and if no one comes then he'll stay with me indefinitely."
A local Castle Hill resident who witnessed the rescue taking place and wishes to remain anonymous said "the two plumbers did a good deed, most people would have just ignored the fact that their was a dog trapped in the drain but they actually went out of their way to help rescue it."
Anybody in the Hills District with a plumbing problem that calls Hills Roto Plumbers for their plumbing emergencies will have a chance to see the puppy working with Jordan.
Bookings can be made by calling them or visiting their website – https://hillsrotoplumbers.com.au
Owner of Hills Roto Plumbers Richard Bates says "Our team have all taken a liking to the puppy who has become our company mascot so I'm more than happy for Jordan to take him out to any job as long as our clients don't have a problem with it."
Hills Roto Plumbers boast that they are experienced Plumbers in the Castle Hill area and have fully licensed plumbers who can perform a wide range of plumbing services with efficiency and honesty. They service all suburbs in the Hills District NSW.
They have all the equipment and tools to take care of hot water repairs, blocked drains, gas fitting, emergency plumbing issues, toilet repairs and a host of other commercial or residential plumbing needs.
Media Contact
Company Name: Hills Roto Plumbers
Contact Person: June Bates
Email: Send Email
Phone: 1300271776
City: Castle Hill 2154
State: NSW
Country: Australia
Website: hillsrotoplumbers.com.au