What is an Oriental Carpet/Rug and what makes them unique?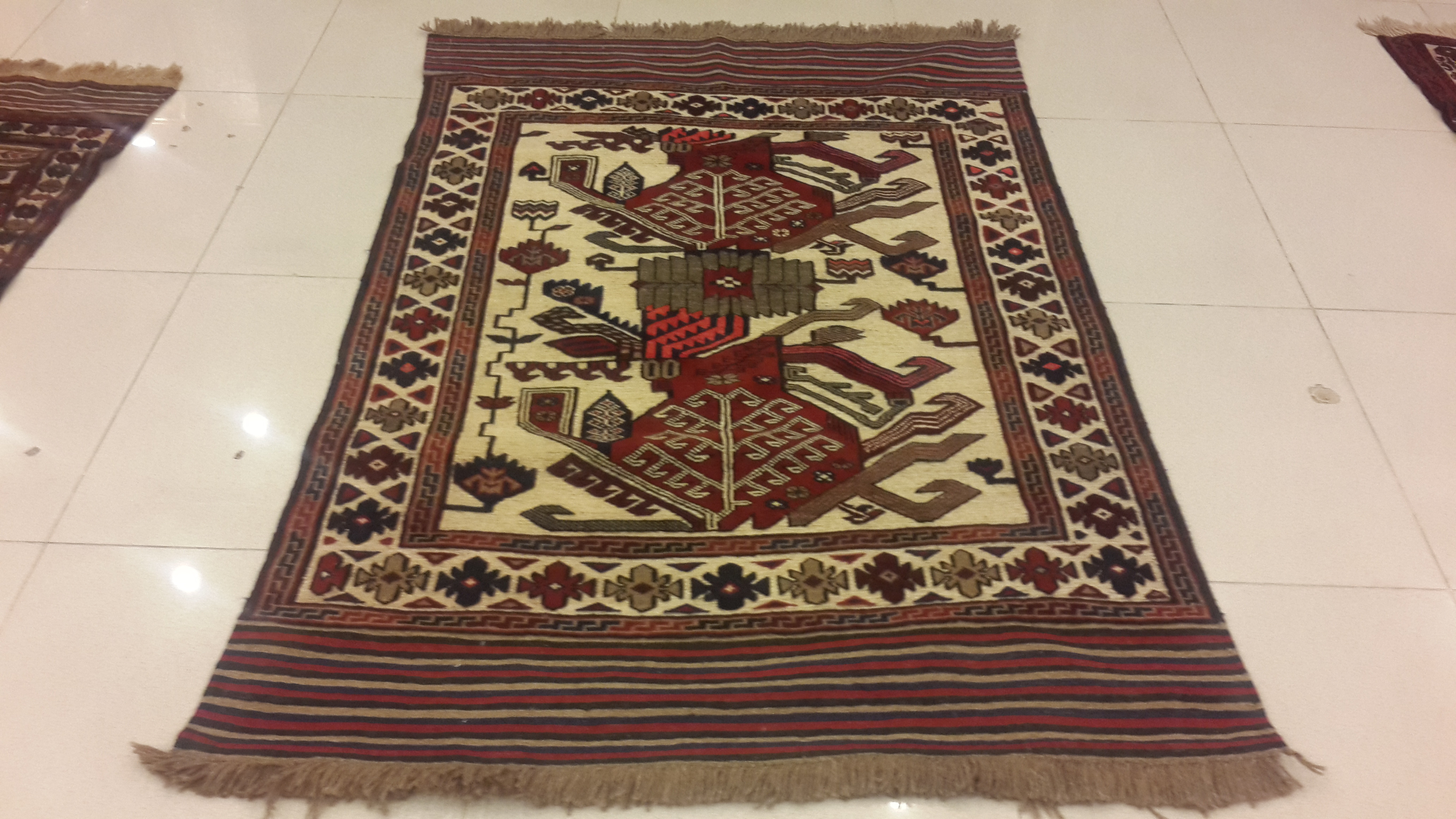 A true oriental rug or a carpet must be hand knotted and come from any of the traditional carpet producing countries of the world. This includes Persians, Indians, Kashmiris and a host of other styles.
Oriental rugs are different from all others in that their pile (usually wool) is tied to their foundations. That is why they are referred to as hand-knotted rugs, and that, more than anything, accounts for why they last so long — often 50–80 years in use. This also accounts for their expense. Carpet making has also historically evolved as an Art form and as with other art form the value and beauty remains subjective.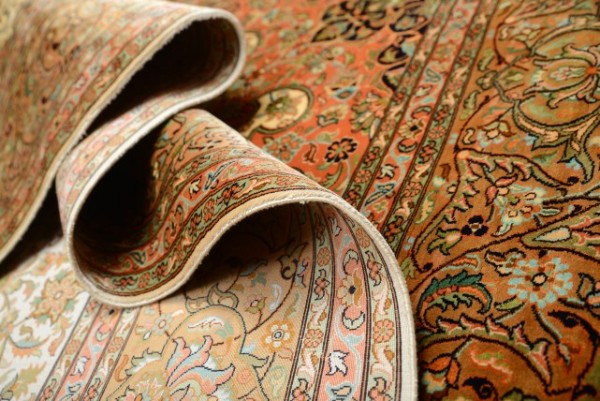 Here are some of major Questions Asked By Our Customers
'Antique' — Original pieces from Our Private collection of antique rugs. This collection is acknowledged to be the single largest Private collection in the world after the Sultan of Brunei's. We have a part of this private collection available for sale at the Miras Carpet Industries. Geographically this collection spans the entire carpet-making world and comprises individually selected pieces from Iran, Afghanistan, Pakistan and India etc. The famous Bukhara carpets Like Kaishan, Hamadan, Qum, Jewel Of Kashmir, Star Of India,Doors Of Paradise, Khatirus, Tree Of Life, Kirman rugs, Isfahans, Samarkands and many more find representation here.
'Silk Carpets' — The famous 'Indian silk carpets' are manufactured by us in Kashmir; these are new carpets and can be made entirely of Silk or on Silk with a cotton foundation. These "Kashmiris" Weavers often take inspiration from the classical Persian designs. Silk is the ultimate luxury fiber and these carpets are prized for their ornate design and opulent finish.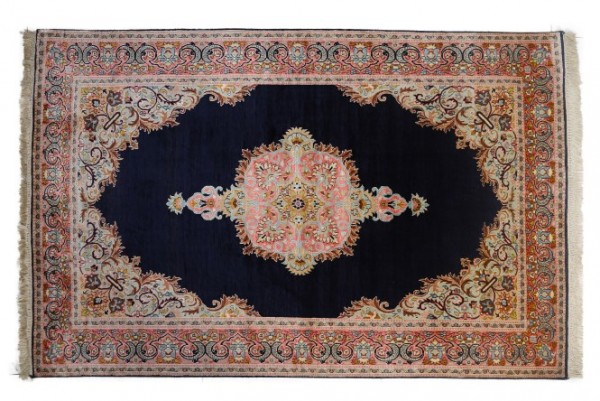 'Antique Reproductions' — We at Miras Carpet Industries recreate classical Persian and Mughal carpets using the same dyeing and weaving techniques of yore.
Do peruse our stylish 'Silk and Wool Collection' for our Persian reproductions and the 'Mughal Jail Collection' for our imitations of the erstwhile Jail Carpets. All these carpets are manufactured using clothing grade merino wool and are also available with silk accents.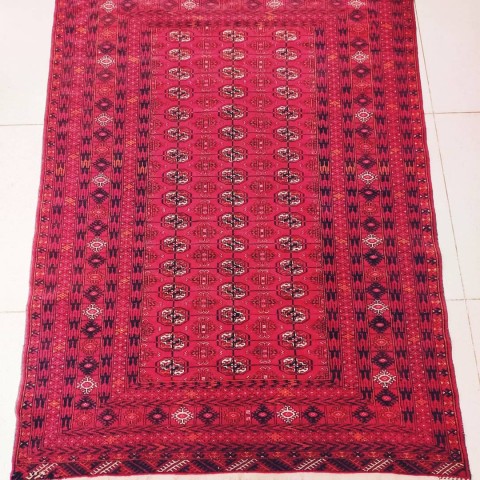 'Kilims' – a large selection of the flat weaves from Central Asia, Iran, Afghanistan and Turkey.
These "tribal rugs" are in bold geometric designs and oft-vibrant colors. Made for self-use rather than sale, each piece then becomes unique and the handiwork remarkable.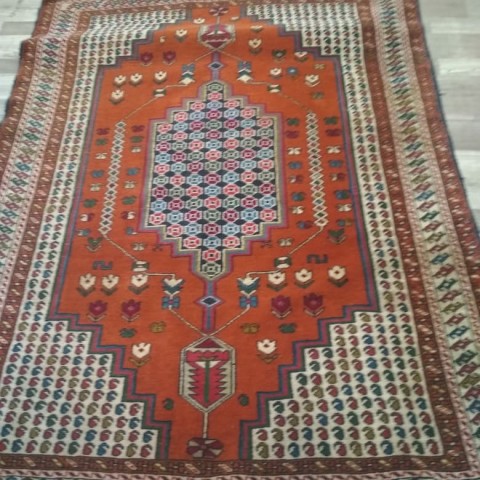 'Montage' — Modern carpets in sleek lines and contemporary colors.
What Indian carpets do you keep?
Old Indian rugs are represented in our Old & Antique selection; we stock original pieces from the 19th and 20th century. Some have been privately acquired from the royal families of India while others are new rugs manufactured by us today.
For antiques see — Carpets & Rugs
For new carpets in wool and Woolen Carpets- For 100% Silk Carpets, Please Check with Silk On Silk Carpet Section.
We keep Obsession, Transitional, Persian, Traditional, Modern and Old vintage carpets in stock.
We are award winners in customizing carpets and rugs.
What dyes do you use?
We recreate age-old carpet making techniques. In keeping with that we use natural dyes i.e.vegetable dyes.
What is an Abrash?
A change in color in the field or border of a rug is called and 'Abrash'. The color change extends across the rug, left to right, following a weft yarn and this is due to differences in wool or dye batches used in the weaving of the rug. Rather than being seen as a flaw an Abrash is appreciated by carpet lovers as a testament of handwork.
I am on a budget, could I still afford an Oriental rug?
It is a misnomer that all oriental rugs are unreasonably expensive. If you are on a budget you could still buy a great carpet. Consider selecting pieces that are newer and factor in raw material and labour costs. Silk yarn is more expensive than wool, and silk carpets also require more time and skill to weave because of the more intricate patterns.
How much time does it take to make a Carpet?
Manufacture time would depend on carpet size and intricacy. A small 3' x 5 ' rug could take a person several months to make, while a medium-sized rug (5' x 8') could take a person or persons a year. Some of the museum quality Antique pieces or the very intricate silk masterpieces could take Several years.
Do you customize Carpets?
We do customize carpets and have done so previously for official state buildings, consulates and hotels.Please do be cognizant that customizing a carpet is both labour and resource intensive and will also take some time and collaboration at all stages of the process -From design to making a naksha, dyeing the yarn and weaving rug allow for a minimum time of 6–12 months from commissioning.
Should I buy a rug if I have pets or small children?

buy a rug if I have pets or small children?The Miras Carpet Oriental rugs is quality. Apart from their beauty it is their durability that makes them so highly sought after.Pets and children should not deter you from buying fine rugs. Hand-knotted carpets are made to weather; they're made to endure high traffic and wear and tear that is why they last for decades. A high traffic area would demand a rug of high quality i.e. a hand-knotted one. Hand-knotted rugs are also easy to clean and maintain.
I have allergies should I buy an oriental rug?
All our carpets are manufactured using natural dyes (insect and vegetable) and natural fibres (wool, silk and cotton); they should not cause or aggravate allergies. If you're sensitive to dust, the regular vacuuming or brushing of carpets should allay those concerns.
I was gifted a damaged carpet, can it be restored?
Yes, the Miras Carpet Industries has restoration professionals on hand to evaluate and restore your piece.
What items can I place on top of my carpets?
Most items commonly found in a household or business (i.e. tables, chairs, couches) can be placed on carpets. Items should be periodically moved forward and back over the course of a year to prevent any uneven crushing of the carpet's pile.Plants should never be placed on top of the carpet, even with a water basin beneath the pot. Any leakage can damage the carpet.
Certification:
We provide certification of all our Miras Carpets. A certificate of authenticity will be provided to you given carpet genealogy, approximate age and relevant information on symbols and motifs.
What are the Standard Carpet Sizes?
The sizes for old and antique carpets are based on the above standard but as nomads and tribals usually weave them, they can vary in their dimensions by a few feet or inches.
The standard sizes in New wool carpets are:
2×3 feet
4×2.5 feet
5×3 feet
6×4 feet
7×5 feet
8×5 feet
9×6 feet
10×8 feet
12×9 feet
14×10 feet
15×12 feet
18×12 feet
The standard sizes in New Silk carpets are:
2×3 feet
4×2.5 feet
5×3 feet
6×4 feet
7×5 feet
9×6 feet
10×8 feet
12×9 feet
14×10 feet
18×12 feet
Media Contact
Company Name: Miras Carpet Industries
Contact Person: Mir Nawaz
Email: Send Email
Phone: 08041571894
Address:No,7. Suryodai Complex, Old Airport Rd. Kodihalli OPP Hotel Leela Palace, HAL 2nd Stage
City: Bengaluru
State: Karnataka
Country: India
Website: www.mirascrafts.com