Matte vs. Polished – Tap into the new trends with Caesarstone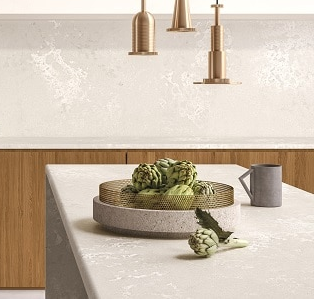 Singapore – June 25th, 2020 – One of the biggest decisions while choosing stone surfaces for your home always leads to this question: matte or polished?
It's a highly contested topic and it usually depends on the personal preference of the homeowner. However, if you are all about the current and popular trends, then you will be delighted to know that the new wave is all about the rough textures and Caesarstone has got you covered.
As a leading company in high-quality quartz surfaces, Caesarstone is always experimenting with different looks and is up to date with popular trends in the market. Their new Metropolitan collection is a testament to this commitment. Bringing classic industrial looks and gorgeous patinas, these surfaces are sure to take your home interiors to a whole new level of authenticity.
Let's take a quick look at them:
4023 Topus Concrete: Chic, urban, and brimming with character, the Topus concrete texture is unique and engaging. Its expert patina and rugged appeal embraces the industrial aesthetic to the fullest and even has tinges of blush-pink undertones that makes it totally one-of-a-kind! Perfect for complementing neutral spaces with!
The rough, matte surfaces can easily camouflage all the imperfections as compared to glossy ones. Even when they are subjected to unprecedented scratching, you won't notice it at all, and that's the beauty of Caesarstone's quartz surfaces!

Image Source: Caesarstone

Image Source: Caesarstone
4044 Airy Concrete: With its matte-finish and earthly rough-hewn gray surface, this is the perfect choice for all homeowners who appreciate the raw natural look. The rough concrete patina has been partially refined and emulates a contemporary aura in any space that it is introduced in.
You do not have to worry about maintaining your matte surfaces due to the nature of Caesarstone's quartz which retains its low and easy maintenance qualities. Simply use soap and warm water or a mild detergent and you can easily wipe away any stains. With matte/rough surfaces, you would not suffer from slipperiness due to its excellent traction as well!

Image Source: Caesarstone

Image Source: Caesarstone
6338 Woodlands: Part of Caesarstone's Supernatural collection, the rich, refined marble veining technology used in the Woodlands surface results in bold bursts of colors and gives an authentic stone aura to complete with intricate veins and decadent hues.
The general perception of matte stone surface is that it gives off a dull and dark look to your space. However, with Caesarstone's quartz surfaces like the 6338 Woodlands, its artfully distressed finish emulates the beauty of natural stone, complete with intricate veins and edgy textures which are easy on the eyes.

Image Source: Caesarstone

Image Source: Caesarstone
The newest additions to Caesarstone's Metropolitan and Supernatural collections are absolutely stunning and would make a bold, beautiful and class to a home.
ABOUT CAESARSTONE
An industry pioneer and global leader, Caesarstone was the world's first company to establish a new product genre in the industry by harnessing the extraordinary physical properties of quartz, one of nature's strongest minerals, to create a unique and glamorous product – the original quartz surface.
Media Contact
Company Name: Renopedia
Contact Person: James Soh
Email: Send Email
Phone: 65364676
Address:101A Upper Cross Street People's Park Centre #08-15/23
City: Singapore 058357
Country: Singapore
Website: renopedia.sg