New Bridesmaid Dress Trends 2021 Bridesmaids Will Love
With so many different colors and styles available in recent years, many bridesmaids don't know which bridesmaid dresses are the most popular today. This article will give bridesmaids an idea of what the trends will be in 2021.
The bridal fashion industry is always circulating through hot new styles and colors. This year, the color palette for bridesmaid dress is represented by shades of blue, gray or green. There are also classic black and white colors that are never out of trends all the time. So, look at examples of bridesmaids dresses for inspiration, to better feel each color and understand how to use it in the best way for bridesmaids.
1. Mint Bridesmaid Dresses
This year, mint color again gained a worldwide popularity among bridesmaids. Its pleasant shade makes this color a great choice for summer weddings, but also it will look lovely in winter too if bridesmaids combine it with other shades of blue. Make sure that the mint color of bridesmaid's dresses is matching with a design of the wedding. It can be used in wedding invitations, table decor or even in drinks decorations.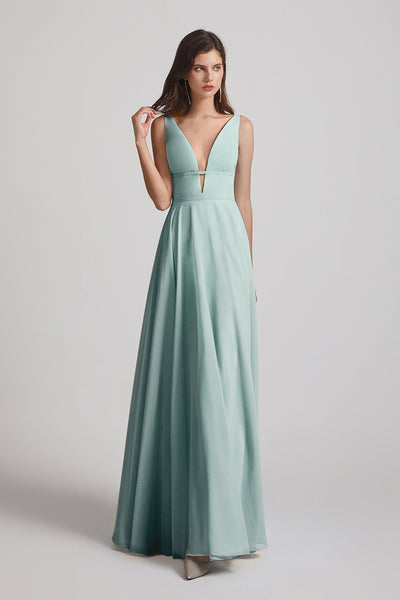 2. Emerald Bridesmaid Dresses
In recent years, the emerald is still in the leading position. This gorgeous shade of green will make wedding be really colorful and memorable. Bridesmaid dresses in this jeweled shade of green look elegant and generous. Also, a great advantage of emerald color that it suits to almost any color of skin, hair and eyes.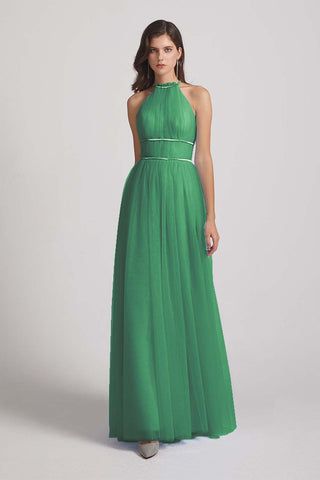 3. Dark Blue Bridesmaid Dresses
Dark blue is a classical and not to flashy color for a traditional wedding. This color is not as strict as black, but it's still suitable for many people as well. Bridesmaid gowns in dark blue look so elegant and royal. One of the best options for this color is how fabulously and bright bouquets of colorful flowers look against the dark blue background.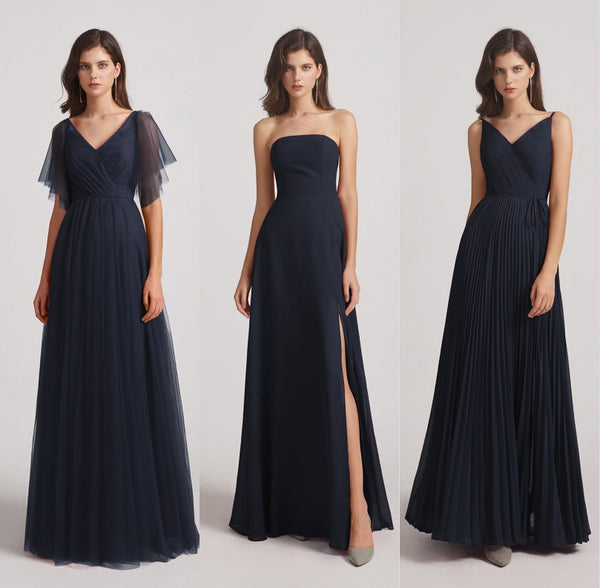 4. Gray Bridesmaid Dresses
Generally, it is considered that the gray color is too boring and faint for a wedding celebration. But this year, gray is experiencing a wave of popularity. Gray is very tolerant to other colors, it is really modern and restrained, but not longer a boring one. Experienced stylists know how to bring gray back to life and make it look in a new way. That's why these days gray had a set off a boom and now it is more often used in the wedding palette. The secret is to choose the right shade of gray and combine it with other colors.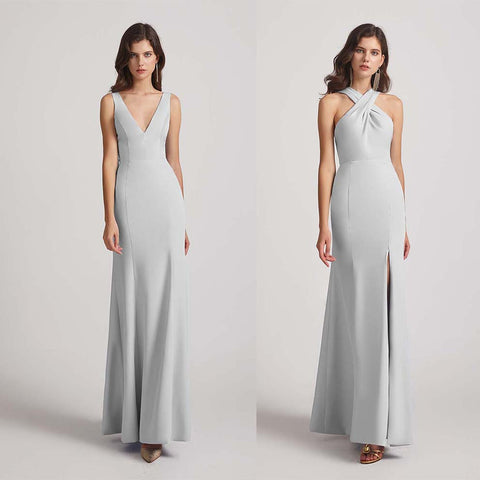 5. Black Bridesmaid Dresses
Black for a wedding can really surprise and stump people. Because usually people immediately think about sadness or have associations with something really depressing. However, this color is very underrated. It is such a classic color that can look avant-garde, refined and beautiful, especially in contrast with the white dress of the bride. The combination of black and white is an expression of harmony and balance. This combination of two colors successfully complement each other. Therefore, bridesmaids don't need to be afraid of black. Black dresses are so elegant, and they usually associate with high fashion. A little black dress for bridesmaids will be a win-win option.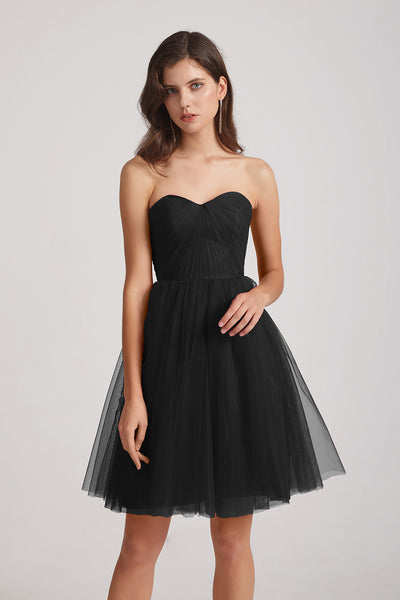 Conclusion
Now bridesmaids know that maids of honor dresses may be not only with pink and blue shades. Try to experiment with different colors and most important is to not be afraid! Go crazy with colors and be creative! All colors will look amazing and incredible if bridesmaids choose the right style of dress and learn how to make color variations that work well together.
Media Contact
Company Name: Alfabridal
Contact Person: Natalia
Email: Send Email
Phone: +8615506210392
Address:A Building, City Life Plaza
City: Suzhou
State: Mainland
Country: China
Website: alfabridal.com