Yum Bunnies Cakery Keeps Holiday Festivities Pandemic Proof with Launch of December Cake Jars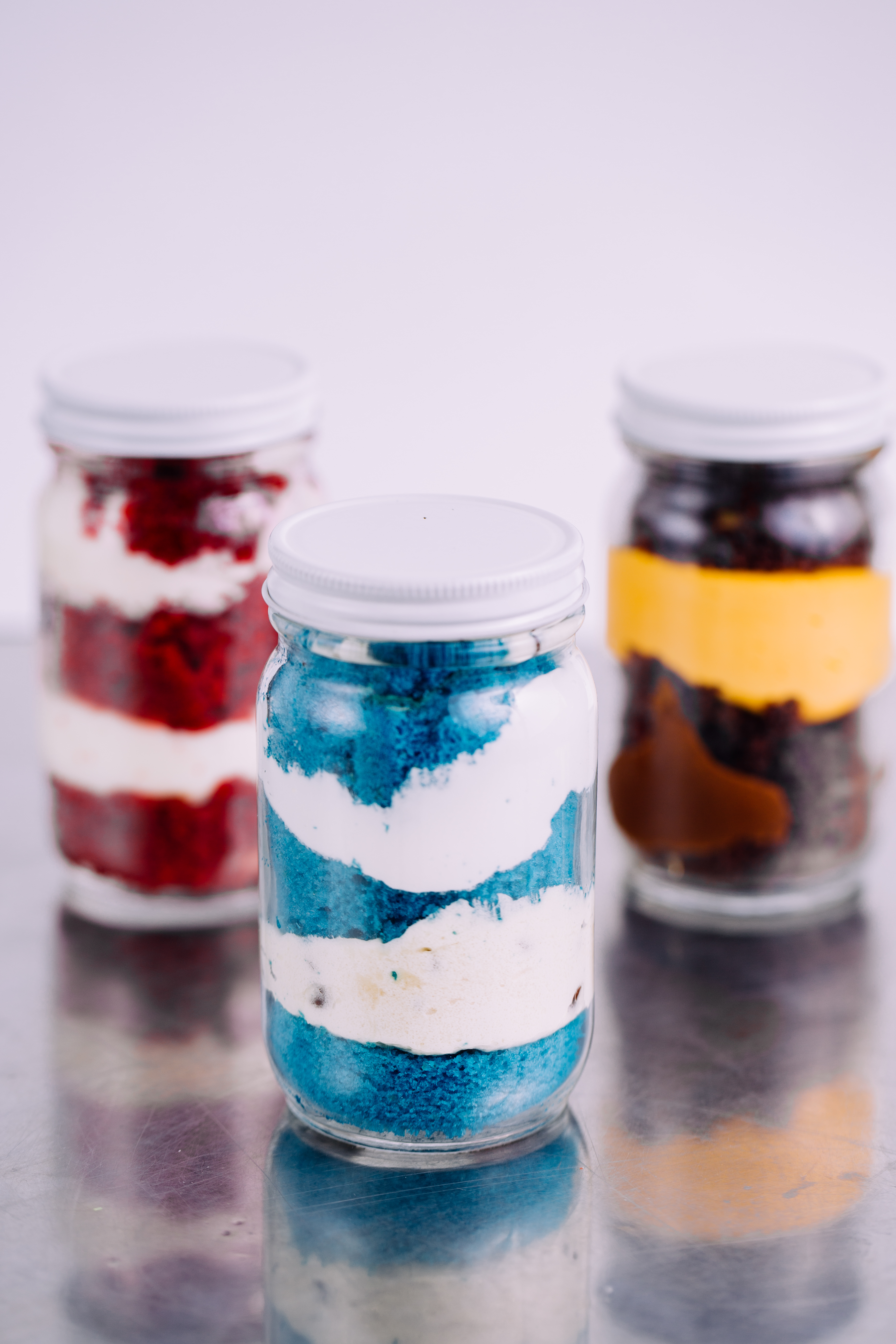 Cake Jars Bring Unique Personalization & Fun to Socially Distant Celebrations
Belmont, MA – December 16, 2020 – A Belmont Cakery is keeping celebrations sweet and fun this year despite the state of the world. Since 2007, Yum Bunnies has been creating custom cakes and cupcakes for special occasions and has found a way to safely navigate COVID-19 celebrations with holiday cake jars. Each 8 oz glass, self-contained, mason jar is prepared with delicious, housemade layers of cake, fillings and buttercream. Serving a variety of flavors, including gluten free options, cake jars are the perfect socially distant dessert.
Owner Jessa Sahakian says, "We've been making cake jars since 2017. When Covid hit, people started downsizing/cancelling their parties, which meant downsizing/cancelling custom cakes. We started to offer a monthly cake jar menu to supplement our income. Not only were our customers thrilled with the new idea and flavor choices, they said they looked forward to their individual treats! We received so many messages saying how cake jars were providing a bright spot during the pandemic."
Cake jars became the hit of social distant events, along with zoom parties and drive by celebrations. Now each child can get a jar to bring home, sing happy birthday on a Zoom call, see the candles blown out and all dig in together. Just because parties cannot happen like they used to, doesn't mean we can't still celebrate.
And cake jars are not just for kids! Yum Bunnies cake jars can be picked up and are the perfect treat for socially distanced events like weddings, birthdays, holidays, work parties, baby showers or just for a casual weekday dessert to share virtually with friends or family outside of your bubble. Also, they are a great gift for a teacher, postal worker or babysitter. Just to name a few.
Custom cake jars are available as add-ons to bespoke cake orders, and ready made jars can be picked up. Pre-ordering is recommended as availability is not guaranteed.
Jar flavors include cookie monster with housemade heat-treated cookie dough, red velvet, funfetti, double chocolate, Oreo, Heath, cinnamon bun, and more. Custom and seasonal flavors are also available – the December holiday specials include Grinch (vanilla), Cranberry White Chocolate, Peppermint Chocolate, Eggnog, and Dark Chocolate Salted Caramel. Individual cake jars are $8, with costs varying for larger orders.
About YumBunnies Cakery
Yum Bunnies Cakery is located in Belmont, MA and specializes in custom cakes, cupcakes and cake jars for special occasions. Known for the quality of their artistry and design skills, the cakery was chosen to make the cakes featured in movies such as Pink Panther, Ghosts of Girlfriends Past, Zookeeper, and more. Yum Bunnies was founded in 2007 by custom cake designer Jessa Sahakian.
To learn more or place an order, follow @YumBunnies on Instagram and visit them online at www.yumbunnies.com
Media Contact
Company Name: Gaslight Marketing & Comm
Contact Person: Scott MacKenzie
Email: Send Email
Phone: 6178925409
Country: United States
Website: www.gaslightcomm.com