Peripheral T-Cell Lymphoma (PTCL): Overview, Epidemiology, Treatment Market, Emerging Drugs and Key players
DelveInsight's 'Peripheral T-Cell Lymphoma Market Insights, Epidemiology and Market Forecast–2030' report delivers an in-depth understanding of the PTCL, historical and forecasted epidemiology as well as the PTCL market trends in the United States,EU5 (Germany, Spain, Italy, France, and United Kingdom) and Japan.
Peripheral T-Cell Lymphoma (PTCL) is a diverse group of aggressive lymphomas that develop from mature T-cells and natural killer (NK) cells.
How has Peripheral T-Cell Lymphoma impacted people's lives?
PTCL accounts for 10–15% of all non-Hodgkin lymphomas worldwide
The total incident population of Peripheral T-Cell Lymphoma (PTCL) in 7MM was 16,298 in 2017
The incident population of PTCL in the United States was 6,110; whereas in Germany, it was 1,183 and in the UK, the number was 1,100 in 2017
PTCL accounts for 7–15% of NHLs in the United States and EU-5 countries
PTCL accounts for around 20–25% of NHLs in Japan
EU5 countries occupied around 28.48% of the patient pool amongst 7MM in 2017
How will Disease transform PTCL Market?
The current standard of care for initial PTCL market treatment is multi-agent chemotherapy. The treatment has not significantly changed in decades and is too often unsuccessful in leading the long-term remissions, underscoring the need for new treatments. The progress will be made incrementally in the different subtypes.
With the new insights into the understanding of the PTCL, future endeavours for PTCL treatment should focus on developing trials specific for different subtypes, and exploring novel combination therapies in the front-line setting.
Apart from these approved and off-label therapies, various emerging therapies are being evaluated in clinical trials for the treatment of PTCL and its subtypes.
Which biotechnical companies are developing Peripheral T-Cell Lymphoma drugs?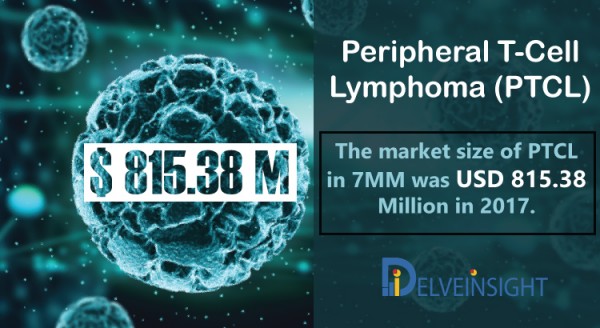 There a slew of biotechnological companies that are developing PTCL emerging therapies, which include Azacitidine (Celgene Corporation), Denileukin diftitox (Eisai), HBI-8000 (HUYA Bioscience International/Quintiles), COPIKTRA (Verastem), Tislelizumab (BeiGene), Keytruda (Merck), STI-3031/IMC-001 (Sorrento Therapeutics), SP-02 (Solasia Pharma), Tipifarnib (Kura Oncology), ALRN-6924 (Aileron Therapeutics), Ruxolitinib (Incyte), and Romidepsin + Azacitidine and many others.
Request for sample pages @ Peripheral T-Cell Lymphoma Drugs Market
Media Contact
Company Name: DelveInsight
Contact Person: Priya Maurya
Email: Send Email
Phone: +919650213330
City: Albany
State: New York
Country: United States
Website: https://www.delveinsight.com/