What points should be paid attention to when installing the peach-shaped column fence?
The peach-shaped column fence is a kind of protective net installed in high-end villa communities. The peach-shaped column fence is connected by a bent fence mesh and a peach-shaped column. It has strong decoration, beautiful appearance, and strong anti-theft. Some users will not install the peach-shaped post fence after purchasing. Below, the fence factory will share with you the installation problem. Fix the first post first, and then install the mesh head on the post first.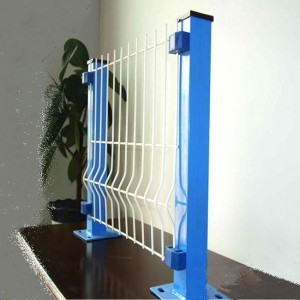 In the Jiang mesh, the other head is installed on the second column, and so on, the column cannot be fixed first, so it cannot be installed. Generally, the thickness of the plate of the peach-shaped column is 1-1.2mm, which is formed by machine cold pressing and cold bending. The outer side of the cylinder is elliptical, and the inner two plates are respectively bent into a U shape after being connected, which is the hook part.
In order to facilitate the connection between the peach-shaped column and the mesh, the inner side of the column is based on the mesh size of the mesh, and N sets of hooking gaps are uniformly arranged along the length of the column. Distributed on both sides of the column, the outside of the U-shaped hook and the outer oval shape The straight sides of the column are tangent, which effectively prevents prying, and ensures the safety performance of the peach-shaped column fence.
There are three forms of surface treatment of peach-shaped column fence:
Galvanized, sprayed and dipped. Through three surface treatments, the peach-shaped column is more beautiful, generous, and has a fixed decorative effect. More importantly, it prolongs the service life of the column and guarantees the ten-year immortality.
Media Contact
Company Name: Anping Yeson Wire Mesh Products Co, Ltd
Email: Send Email
Phone: +86 137 3978 5813
Country: China
Website: https://www.yesonmesh.com/