GreenSecrets Bedding launching Indiegogo Campaign for their Luxurious and Eco- Friendly Brand
A UK-based company, GreenSecrets Bedding, plans to launch their Indiegogo Campaign on April 06th, 2021 to fund the production of their Luxurious, incredibly soft, and eco-friendly sheets made from a premium material called Tencel lyocell, derived from sustainably grown and harvested eucalyptus trees.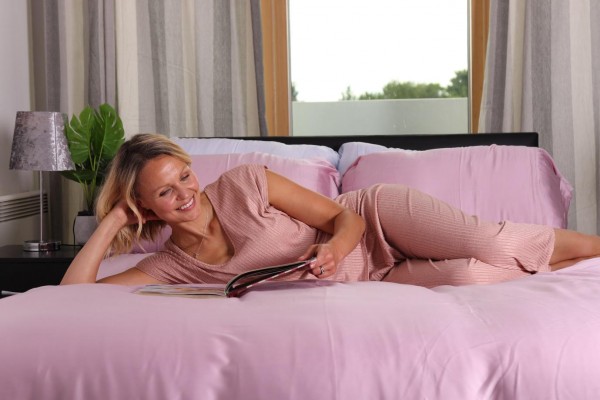 With the world heading into an environmentally friendly and sustainable lifestyle, GreenSecrets Bedding wanted to create the UK's first exclusively 100% Eucalyptus bedding as an eco-friendlier alternative to traditional fabrics that constitute massive harm to the earth due to the amount of pesticide, toxic products, and water required to produce them. GreenSecrets' greatest desire is to see people in every home spend one-third of their lives on a material that does not only offer human comfort and good health, but a healthy planet.
GreenSecrets aims to simplify the traditional complex experience people have when making their bedding choices by reducing the confusing and expensive bedding options with a material with essential qualities, expertly woven from 100% Eucalyptus fibers and Fair Trade- certified to guarantee excellent night's sleep and home life. 100% Tencel Lyocell fibers are smooth to the touch, incredibly soft to the skin, flow and shine luxuriously. They support quality and healthy sleep with their exceptional capacity for thermal regulation and moisture absorption. Another concern that many people have when it comes to purchasing bedding is the possible accumulation of bacteria which can cause severe illnesses and other chronic conditions. GreenSecrets has an answer to that with their moisture-wicking Eucalyptus fiber. Therefore, it makes it anti-microbial and anti-bacterial, so it is nearly impossible for bacteria to thrive.
GreenSecrets thought of everything regarding healthy sleep, sustainability, and modern bedroom designs in this busy world. From people with sweating issues to people with sensitive skin, they knew that the fabric they needed would have to be breathable, extraordinarily soft and temperature regulating for maximum comfort.
As consumers now appreciate their healthy lifestyles should not be at the expense of our planet, GreenSecrets is so excited to make this sustainable option available in the market to the delight of customers, knowing that they are sleeping on better sheets made with the welfare of the environment in mind.
GreenSecrets core values include sustainability, comfort, luxury, innovation, and quality with the added touch of attentive customer service. They partner with one of the world's best bedding makers in Northern Portugal, reputable for over 70 years of rich heritage in textile production with the utmost focus on achieving transparency and traceability at every step in their entire supply chain to ensure their bedding is toxin-free and sustainable, reinforcing their belief in human well-being, healthy communities, and the planet at large.

By cutting the supply chain links that are of no value to the end-users, GreenSecrets can offer comfortable, luxurious, and environmentally conscious bedding directly from the factory to customers' doors, costing less than what they would at regular stores. This type of innovation combined with upscale quality, simplicity, exclusivity, and luxury that consumers have been yearning for.
At the moment, their prices for bedding sets, which comprises of a duvet cover, flat sheet, fitted sheet, and four pillowcases in various colors and designs, ranging from £246.00 – £355.00, individual pieces from duvet covers from £76.00 – £128.00, fitted sheets from £44.00 – £65.00, flat sheets from £53.00 to £82.00 and pillowcases from £16.50 to £20.00. They have all available sizes of Bedding, from single to Superking sizes.
Their vision is to become the leading and fastest-growing eco-friendly and luxury bedding brand globally. Their mission is to inspire natural, luxurious, and comfort in bedrooms by offering uniquely designed bedding made from eco-friendly and superior fabric.
For more information about their Indiegogo campaign, sign up here: www.greensecrets.co.uk/pre-launch to enjoy the discount offered to early birds, which is up to 30% off the MRSP when they launch on Indiegogo. They also offer to deliver at no cost for the first 100 purchases. GreenSecrets also guarantee 100% satisfaction on their products and provide 60- night trial and 24 months warranty with free and easy return policies.
Media Contact
Company Name: GreenSecrets Bedding
Contact Person: Lawrence Adegaye
Email: Send Email
Phone: 07490232064
Country: United Kingdom
Website: https://greensecrets.co.uk/