Good Day Turmeric Mask launched, followed by Good Day Turmeric Cream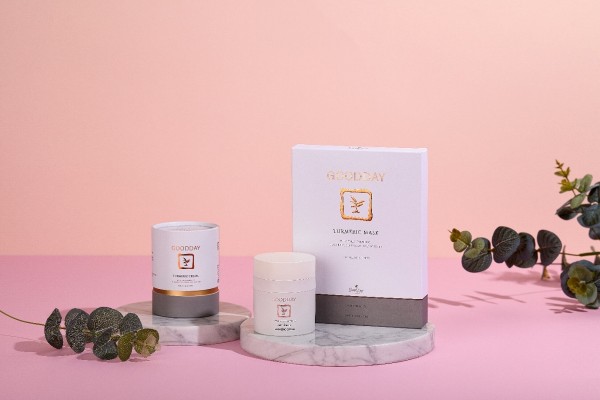 The global cosmetics market demands a variety of products. To respond to the demand, various companies try to change themselves by developing and launching new products, but only a few companies may survive. Currently, cosmetics developed by scientific approaches and natural and organic cosmetics are drawing attention from the market, and only companies that lead this trend may succeed in the market.
Natural cosmetics refer to cosmetics that contain natural plant ingredients as the main ingredient and excludes harmful synthetic compounds. Natural cosmetics are already gaining huge popularity in Korea and are also giving high satisfaction to consumers.
According to Harris Poll of the beauty magazine "Allure", 59 percent of beauty product consumers aged 35 or older said they chose "Green Beauty," a product consisting of natural ingredients.
Against this backdrop, K-beauty's status in the U.S. market is increasing day by day.
To respond to this trend, Juan Biotech Co., Ltd. has launched the Good Day Turmeric Mask and the Good Day Turmeric Cream. These products are excellent for those who suffer from skin troubles caused by wearing masks due to COVID-19.
Good Day Turmeric Mask is a product made using patented method of micro extract of three main ingredients: turmeric, cinnamon, and rosehip. This product is highly effective in relieving the symptoms of various type of skin troubles, while offering skin brightening, wrinkle improvement, and more importantly they are suitable for those who have sensitive skin or overall dark skin tone.
When using this mask product, customers are recommended to leave the mask on their face for about 20 minutes. This product provides excellent absorption of its powerful botanical ingredients into skin by using the top of they quality, Tencel Cupra sheet, a plant-derived and eco-friendly natural fiber made with cotton linters. The cotton itself has a great adhesion capability so it feels like soft silk and fits perfectly on the face.
Turmeric, cinnamon, and rose hip in the turmeric mask helps relieve various skin troubles and blemishes, brightening the skin tone and care for smooth skin. The Good Day Mask Pack is also effective in recovering skin damage, removing wastes, and suppressing melanin pigmentation with daily use.
Customers can purchase the Good Day Turmeric Mask and the Good Day Turmeric Cream at their official website (http://gooddayskincare.com) and Instagram (http://instagra,.com/goodday skincare/).
Goodday Turmeric Cream is officially the best-selling beauty product of all time in China. As satisfying as it is to have perfect reviews from the crowd, sometimes you just can't beat safety in numbers. You may not be able to make the right decision on a product by its cover or its fancy packaging, but you can get a pretty good indicator on whether it's a hit from a product's popularity among many other beauty fanatics.
Goodday Skincare's Turmeric cream has proved its popularity as it is sold every 10 minutes and boasting over 20 million views of its product introduction video in China: https://m.weibo.cn/6051819372/4582378214007041
Media Contact
Company Name: GoodDay skincare
Contact Person: Min Ho Nam
Email: Send Email
Phone: +82 10-5515-9135, +82 2-2088-7851
Country: South Korea
Website: https://gooddayskincare.co.kr