Sam And Rachel Lucania Educate Readers About Tackling And Surviving Mental Health Issues In Their New Book, "Just Don't Die".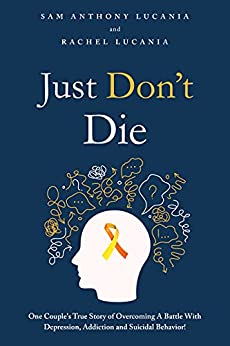 Popular lifestyle coach and motivational speaker Sam Anthony Lucania has announced his new book titled "Just Don't Die". The book narrates the true story of a couple overcoming battles with depression, addiction, and suicidal behavior. The book will go on floors this September. Sam has co-authored this book with his loving and supportive wife, Rachel Lucania.
Sam Anthony Lucania has gone through hell and back in his life, and he is motivated to help people overcome their battles by using his personal experiences with drugs, alcohol, depression, anxiety, suicidal behavior, recovery, mental fitness, spiritual fitness, and physical fitness. Presently, Sam lives a happy life in Virginia with his loving wife Rachel and three sons, Micah, Malachi, and Leighton.
Sam Anthony is now a professional speaker, personal trainer, and lifestyle coach.
Sam has always struggled with mental health issues, and had his first drink at 12 years old as a means of hiding his anxiety and depression, in addition to trying to fit in with his peers. He started smoking weed in high school and even got addicted to pills. Thinking he could run away from himself he left New Jersey, but everywhere he went there he was. He couldn't run away from himself. He overdosed in 2013 and served time in jail in 2016 when his addiction took him into a place he didn't want to go.
"What started off as self-medication turned into a vicious cycle of addiction and suicidal behavior leading to an overdose that landed me on life support in 2013", said Sam, reflecting back on his life.
It was these experiences that Sam Anthony lived that shaped him to become the person he is today. Sam's purpose is to encourage others, provide hope for the future and educate our communities through sharing his vulnerabilities. Sam's message emphasizes awareness and encouragement. Ever since he realized he can turn his mess into a message, Sam has shared his message with thousands of high school and college students, health care professionals, faith-based organizations, and government officials through motivational talks, school assemblies, and panel discussions.
With their new book, Sam and his wife Rachel want to help anyone who may be suffering from problems related to mental health. The raw, straight-on-the-face title of the book, "JUST DON'T DIE" serves perfectly well when it comes to finding that last bit of hope when someone doesn't want to die, but doesn't know how to live because that's what helped save Sam's life. Rachel and Sam want to convey the message that one could find better days and wonderful things in life, only if they survive, and just don't die. Physically or spiritually!
Speaking about the love of his family, Sam said, "I'd be dead literally and figuratively if not for the love of my wife. I'm grateful to have three boys who have never seen their father take a drink or a drug."
The book is available for pre-sale on Amazon.com right now and is scheduled to release very soon in September.
For more details, and preorder, visit: https://www.amazon.com/dp/B09FVTR34V?ref_=pe_3052080_276849420
Media Contact
Company Name: Sam Anthony Speaks
Contact Person: Sam
Email: Send Email
Phone: (703) 463-4248
Country: United States
Website: https://samanthonyspeaks.com