Indigenous Elder and Master Artist Releases NFT Collection and Burns the Originals
CALGARY, ALBERTA – May 6, 2022 – Half Moon Woman (Pat Bruderer) is a Cree Indigenous master creator in the art form called Birch Bark Biting and she has just released onto the OpenSea platform a collection that is the first of its kind.
A birch bark biting is a unique piece of Indigenous artwork. They are made from biting an image, using only the teeth, into a thin, single layer of birch bark harvested from the birch tree. Then, by carefully folding the bark, the pattern imagined is pressed into the birch bark, using only the teeth. Historically, this art form was used to create beadwork patterns, to tell stories, and were used in ceremonies.
"I've always looked for new ways to share my work to ensure that the art form is never forgotten. As a cultural carrier it's very important me. That's why I teach hundreds of kids per year in schools, teach my own family members, and work to distribute my art in a variety of ways, from originals and prints, on fabric, in an upcoming children's book and now NFT's," says Half Moon Woman.
Half Moon's first NFT collection includes two Burnt Originals where the pieces were set fire to along with cedar and sweet grass, traditional Indigenous medicines. The collection was released on April 27th with items for auction and items for purchase.
Half Moon Woman (Pat Bruderer) is one of the few knowledge keepers and expert practitioners of this early Indigenous art form. She was born and raised in Churchill, Manitoba, Canada and is a member of the Peter Ballantyne Cree Nation. Pat's work can be found in museums, galleries, and private collections around the world.
Link to the Iskotew Burnt Original Collection: https://opensea.io/collection/birchbarkbiting
View a video to learn more about the artist and her process: https://youtu.be/p8miLNy22rc
Contact for more information:
Trina Rathgeber
Artist Information
Half Moon Woman/Pat Bruderer
Instagram: @halfmoon_woman
Shown below is an example of a birch bark biting and photo of the artist.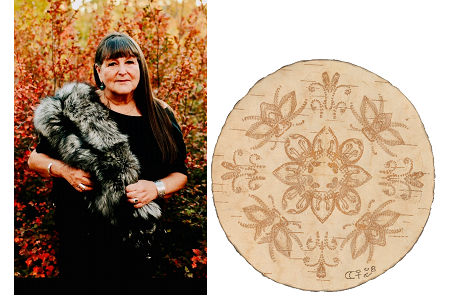 Media Contact
Company Name: Half Moon Woman
Contact Person: Trina Rathgeber
Email: Send Email
Country: Canada
Website: https://www.halfmoonwoman.com/