DJ SOULFLVR set waterways of the Netherlands on fire with his lit beats at YachtSoul Festival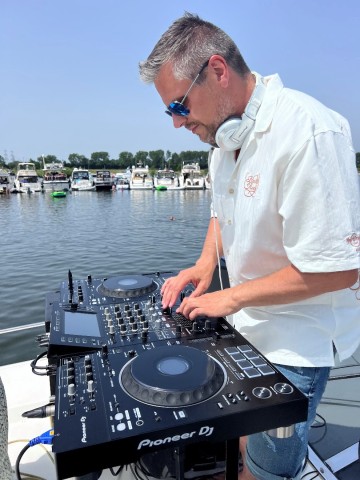 On Saturday, June 18th, the Co-founder of YachtSoul events and Co-organizer of the YachtSoul festival, DJ SOULFLVR, sets the waterways of the Netherlands on fire with his unique beats and remixes.
The YachtSoul festival is an annual music event on the waterways of the Netherlands in the vicinity of Roermond. The country of the Dutch is known for its network of inland waterways all over the world. The country has got a tremendous amount of densest inland waterways in Europe. The YachtSoul festival takes place annually, and to attend the most anticipated music festival on Dutch waterways; people need to come along with their yacht, boat, SUP or any other floating device.
Accompanied by top musicians playing various instruments, DJ SOULFLVR played Deep House and House Music sets on a "Sunseeker Camargue 51" yacht. The yachts of the audience are tied to a semi-circle, and the "Sunseeker Camargue 51" acts as a stage in the middle of that semi-circle. A PA system and DJ equipment are installed on the yacht for the event. The co-founder and organizer of the YachtSoul festival, DJ SOULFLVR and his soulful beats were assisted by one violin and one saxophone artist at the event. The collaboration was nothing less than a fire and the attendees couldn't stop themselves vibing and dancing to the musical beats.
The YachtSoul Festival begins early in the afternoon and continues till late at night. It is a family event where people can relax on their boats, swim, dance, and have fun with standup paddle boards. People can also enjoy Jet skis and Jet boat tenders. The perfect weather this year added life to the event. The air temperature was a perfect 34 degrees Celsius and the water temperature of 24 degrees Celsius. More than 100 yachts from the Netherland, Belgium and Germany joined the event.
If you are also tempted by the setup, we would love to tell you that the annual event of YachtSoul Festival will be back again next year and this time DJ SOULFLVR will be seen playing with new musicians. Such events must go on as they allow people to relax, take a break from their hectic lives and spend a quality time with their friends and family.
Instagram: https://www.instagram.com/soulflvr/
Media Contact
Company Name: SOULFLVR
Contact Person: Alexander Ruhnau
Email: Send Email
Country: Germany
Website: https://soulflvr.com/