Deion Sanders Out: Fans Miss Window for Lucrative Offer To Keep Coach At JSU and My Fan Tribe Launching On February 12, 2023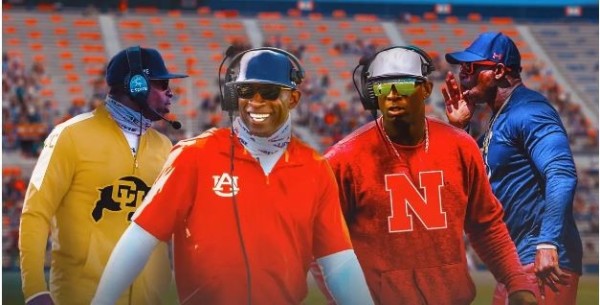 Colleges who have shown interest in Deion Sanders as their head coach. Photo by Clutchpoints
Sheridan, WY – 6 December, 2022 – Sports fans in Jackson Mississippi have had a lot to cheer about in the past two years due to the stellar play of their football team. Reminiscent of the days when Walter Payton graced the stadium with his on the field swagger, and his off the field professionalism. But all that is being threatened as Colorado and other callers have put their bid in to get that "Coach Prime Shine" resonating on their campus.
The launching of My Fan Tribe is positioned to give Jackson State and college fans nationally the power to retain their beloved coaches and players and attract other top talent.
A Likely scenario for coaches reported by The Money Advantage could be similar to Michigan Wolverine coach Jim Harbaugh. Jim was paid $5 million a year as a coach for the Michigan Wolverines, but Michigan also helped him start a life insurance policy as part of his benefits. They loaned him $4 million to start a policy and $2 million a year for the following 5 years.
Another scenario that could play out is having funds raised by My Fan Tribe members, which would be invested by My Fan Tribe's Acquisition partners, resulting in paying fans, coaches and players monthly cash distributions as passive investors. Student-athletes are incentivised to stay out of the transfer portal and coaches have no desire to search for greener pastures.
Kate Tulenko is a labor market and workforce expert. "The situation with Coach Deion Sanders boils down to a retention issue. I do think smaller schools like Jackson State can retain high-value talent such as Coach Sanders, but they have to be creative. Coach Sanders has said that the move to a power 5 school won't change his life, instead, he has indicated that his main motivation for entertaining changing schools is increasing the salaries of his coaching staff. Most schools have tapped out how much their alumni can donate, but there are other alternatives to increase sports budgets. Collectives can leverage their base to raise money and invest to create streams of income to fund the coaching staff salaries and facilitate NIL deals for athletes."
My Fan Tribe is accepting limited application enrollments on its site. Keep in mind, Brands such as Walmart, Mars, and Hermes, were started by friends and family who pooled capital to invest together. Also let's not forget the unicorns that were founded during a recession such as Airbnb (2008), Slack (2009), WhatsApp (2009) Square (2009), and Uber (2009).
Media Contact
Company Name: My Fan Tribe
Contact Person: James Perry
Email: Send Email
Phone: +1 214-940-3932
Country: United States
Website: www.myfantribe.com