Edward R Williams, author of Wealth Building for Beginners guides MBA students in Nigeria, Africa.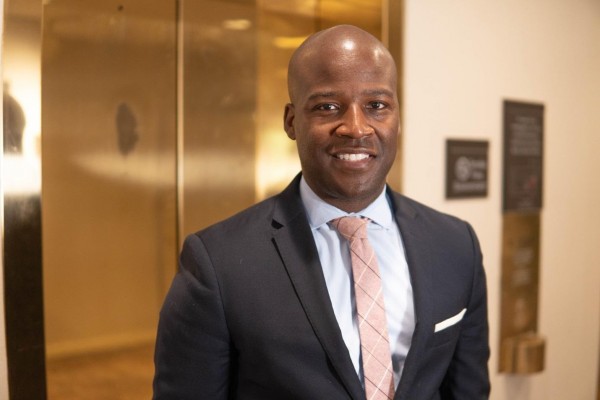 Baltimore, MD – Rome Business School welcomes bestselling author/financial planner, Edward R. Williams as a Keynote Speaker for their masters' student body program, regarding how to build wealth. The presentation will be for their Nigeria, Africa campus location. Rome Business School was ranked in the top 50 business schools worldwide by Global Ranking Eduniversal in 2019. The students are excited to have experienced professionals like Edward that provide real-life insight and mentorship. Likewise, Edward R. Williams is excited to share his wealth building knowledge and bestselling book, Wealth Building for Beginners, with the students.
Rome Business School is a business school which offers Master's programs and a MBA that can be attended both on campus and online. Their mission is to train global leaders capable of managing companies all over the world. Their relationship with the entrepreneurial world is in the essence of what they do, not just as key agents in their students' practices, but also as actors of value in designing and developing their programs. Edward R. Williams brings the entrepreneurial expertise to light with his knowledge of business from Wall Street to Main Street.
"Edward R. Williams' growth to becoming one of the top financial professionals is a meritorious adventure. Every part of him speaks expertise and we need him to speak to our MBA students in Rome Business School Nigeria. I am confident our executive students will learn a lot from him." – Humphrey Akanazu, Director of Research and Methodology for Rome Business School.
Edward R. Williams, is an accomplished author/financial planner, 23-year veteran of the financial services industry, and a popular speaker widely known for his expertise in financial services and wealth building strategies. For decades, he has served as a mentor to his clients, youth, and church congregations throughout the United States. Each year he speaks to thousands of people in churches, as well as financial education seminars/podcasts. He is a dynamic speaker who captivates his audiences from start to finish.
About Edward R. Williams:
Edward attended undergraduate at Howard University, Business School at the University of Maryland, and led investment competitions at Oxford University. He is an accomplished author and registered representative who works with investment products, annuities, mutual funds, life insurance, estate planning, and retirement strategies to help individuals and families grow their wealth.
His latest book titled Wealth Building For Beginners will be released on November 10th, 2020. Wealth Building For Beginners is an instruction manual for ordinary people to build wealth from any starting point. Edward's dad drove a taxicab, and his mom was a court secretary, and growing up, the number one priority with money was finding a way to get the bills paid. There were never any conversations about saving and investing.
Over the past 23 years, he has worked with numerous individuals and businesses to help plan for a successful financial future. His expertise in international business and finance has led to being featured in top publications in Rome, Italy, such as La Repubblica. Being fluent in the Italian language has also welcomed international clients to his financial practice. Edward was announced as a Million Dollar Round Table Member in 2018.
After working as an investment banker on Wall Street in New York, as well as London, England, Edward decided to start his own financial services company, Williams Financial Group, LLC. The Williams Financial Group is currently known for working with faith-based communities and instituting their cutting-edge process of a financial wedge to help congregation members achieve wealth. As quoted by Edward, "In my opinion, The Wedge™ is the only engine that separates the haves and the have-nots. If it's properly built, then a financial need or concern doesn't exist."
About Rome Business School
Their mission is to train entrepreneurs, managers, and professionals to a level of excellence in their competence and their ethical approach to business and work, able to play a part in the development of economic humanity and of society more prosperous, fair, and respectful of the central role of the individual. They provide a multicultural, multi-disciplinary learning community to build better managers for a better world. More than 100,000 students of over 114 nationalities are being connected to talent and knowledge through open, flexible, and useful models, on every level, in different subjects, methods, and areas. Students need a bachelor's degree as well as two years of work experience to be eligible to attend.
Website Edward R. Williams: www.EdwardRWilliams.com
Website Rome Business School: https://romebusinessschool.com/
Media Contact
Company Name: Wealth Building for Beginners
Contact Person: Edward R. Williams
Email: Send Email
Country: Nigeria
Website: https://romebusinessschool.com/