Documentary On Elmore Leonard to Air Soon Nationwide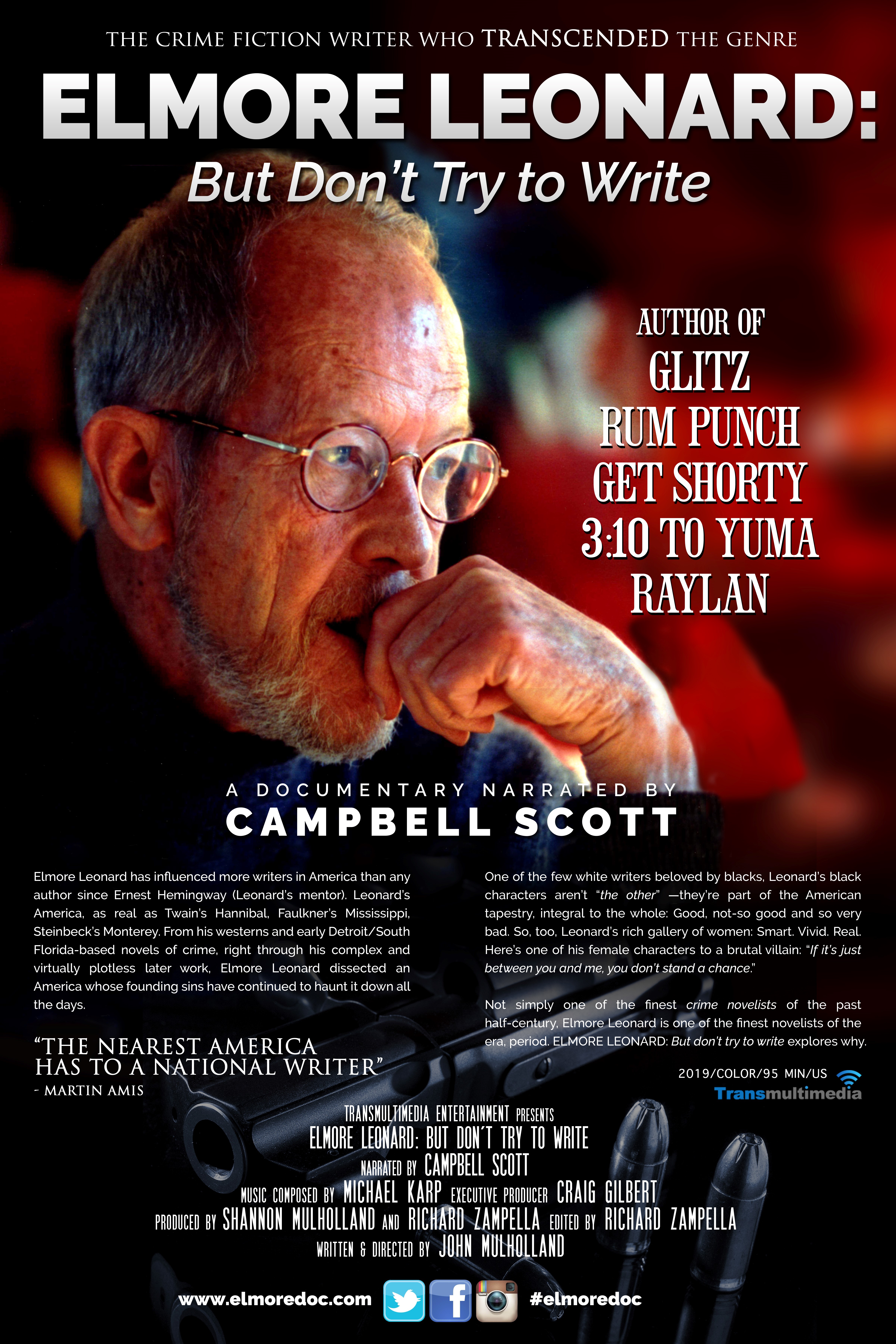 The documentary, 'But Don't Try to Write', will be airing soon nationwide beginning on July 7th. This film comes from the creative and talented minds of Writer and Director John Mulholland.
The documentary, 'But Don't Try to Write', will be airing soon nationwide beginning on July 7th. This film comes from the creative and talented minds of Writer and Director John Mulholland.
A documentary about renowned author Elmore Leonard, But Don't Try to Write, will be airing first on July 7th at 2 p.m. on public television in the cities across the United States. The documentary was written and directed by John Mulholland.
But Don't Try to Write explores the author's legacy and his influence on generations of writers and will be narrated by Campbell Scott. It will first premiere on July 7th, 2022 at 2 p.m. in cities like Memphis, Jackson, Columbus-Tupelo, Biloxi-Gulfport, Meridian, and Greenwood-Greenville. At 9 p.m. the documentary will premiere in San Francisco and Monterey-Salinas. In the days following the initial premiers, the film will be broadcasted across the country in cities like Cleveland, Portland, Bend, Tucson, Eugene, Meridian, and Youngstown. But Don't Try to Write is a produced by Richard Zampella and Shannon Mulholland, executive produced by Craig Gilbert, a production of Dutch Films, LLC and distributed by American Public Television (APT).
The film features interviews with Jim Born, Mike Lupica, Wendy Calhoun, Neely Tucker, Graham Yost, and many others. Through these conversations, the film paints a portrait of an artist who has profoundly impacted our culture and our language. It also includes 30 minutes of original, unreleased interview footage with Elmore Leonard.
Elmore Leonard was one of the most acclaimed novelists of the past half-century. He is the author of forty-six novels including Get Shorty, Out of Sight, and LaBrava. He was known for his crime novels, but he was also a master of other genres, including westerns, comedies, and dramas. In addition to being a prolific writer, Leonard was also a gifted storyteller, and his books were beloved by readers worldwide. In this documentary, Leonard's colleagues, friends, and family share their memories of the man and his work. Featuring exclusive images and previously unseen footage, Elmore Leonard: But Don't Try to Write is a tribute to one of the greatest writers in recent history.
Leonard's exploration of racism in America is unparalleled. His Black characters are rich, complex, and full-bodied. His women, both good and bad, are not victims; they are real women negotiating femaleness in a male-driven world. His cops try to do the right thing in a murky, very gray America. Leonard's working-class men and women seem to be forever beyond the grip of the American Dream. Like Ernest Hemingway, his mentor, Leonard is a master of economy and brevity. His prose is lean and mean, and his dialogue is sharp as a knife.
Best-selling author Rachel Howzell Hall said, "Elmore Leonard's novels more honestly represent America than any other novelist."
For more information, visit elmoredoc.com or visit APTonline.org to download a press kit with a fact sheet, press release, and photos.
About John Mulholland
John Mulholland is a writer, director, and film historian best known for his documentary films. He is also a writer of books, screenplays, articles, and a popular lecturer and podcast host. His work includes the documentaries Elmore Leonard: But Don't Try to Write; Cooper & Hemingway: The True Gen a film that explores the 20-year friendship between three-time Academy Award-winning actor Gary Cooper and Nobel and Pulitzer Prize-winning author Ernest Hemingway – a New York Times Critics Pick; Sergeant York: Of God and Country narrated by Liam Neeson; Liza Minnelli Reflecting; Reflections on Gaslight; Charles Dickens and 'A Christmas Carol'; The Letters of Vincent Van Gogh and Theo Van Gogh; On Macbeth; Eastern European Composers; The Lake Poets; and the soon to be released documentary Inside High Noon: the Making of the 1952 Film High Noon.
In addition, Mulholland was the host of an online podcast Icons Radio Hour. He is also the author of Classic Film Chatter, a book series about notable film genres published by Cine Monde Classique. Colossal New York is publishing three of John Mulholland's graphic novels this year. The first is entitled TENDERLOIN, which takes place during the Gilded Age of New York.
He has authored many other books, screenplays, and articles for newspapers and magazines, including Newsweek, The Financial Times, Idaho Press,and others. Mulholland is a popular speaker and lectures on film and literature in cities across the U.S.
Mulholland is now doing research on the author Graham Greene for his next documentary. Mulholland lives in New York City.
Media Contact
Company Name: Elmore Leonard Documentary
Contact Person: Paul Gallnon
Email: Send Email
Country: United States
Website: www.elmoredoc.com