Strategic Advancements in Drug Development are Beholding the Growth of OX40 Receptor Agonists Pipeline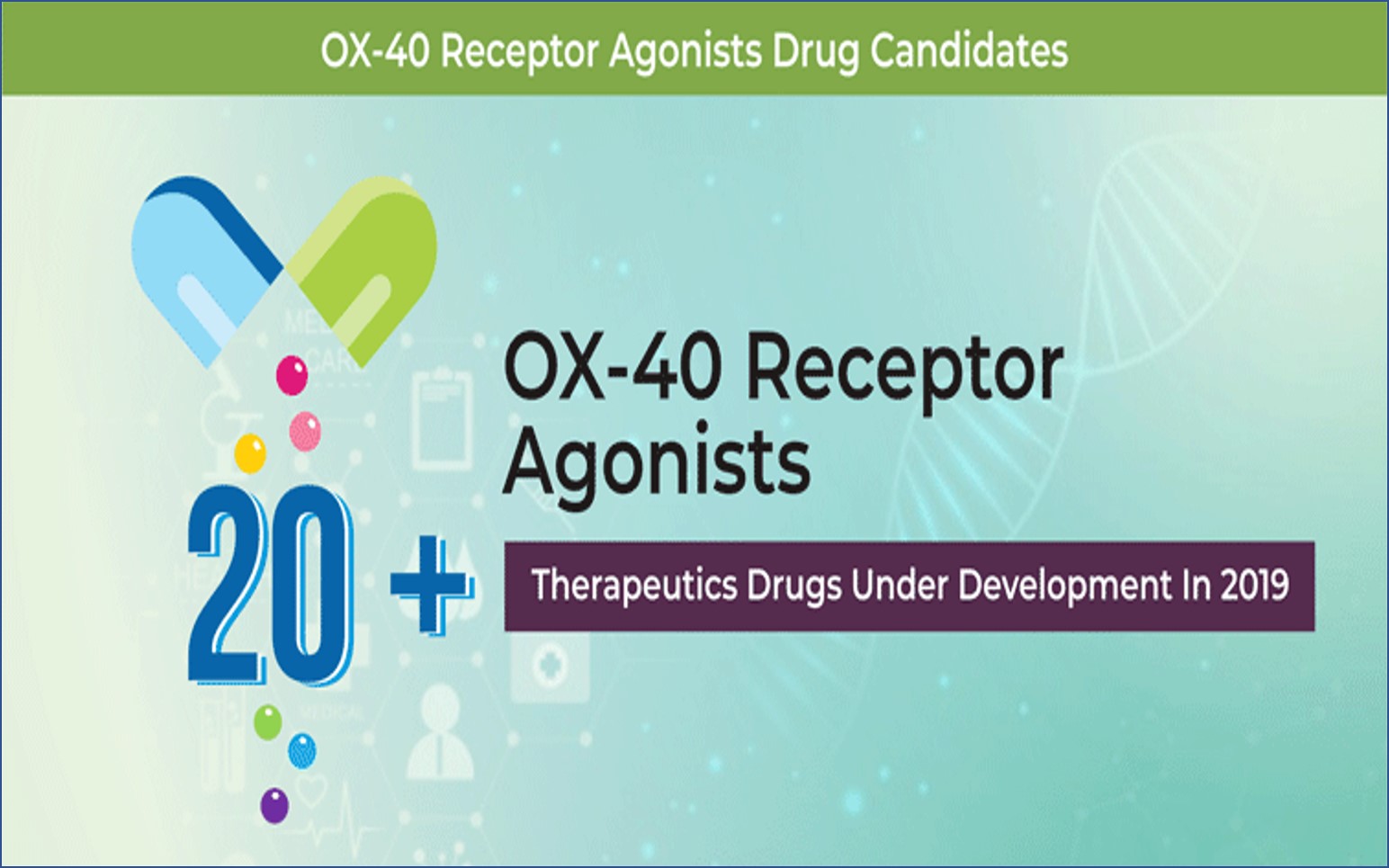 According to a new research report "OX40 Receptor Agonists – Pipeline Analysis 2019″ published by Pharma Proff, OX40 receptor agonists currently exhibits a proliferating pipeline with 20+ therapeutic candidates.
OX40 receptor holds a place in the tumor necrosis factor (TNF) superfamily whose interactions play an essential role in causing of different immune system ailments. OX40 interactions are amongst the most critical pathways that decide the extent of CD4 and CD8 T cell resistance. OX40 interactions also possess a crucial role in T cell immunity. OX40 is a co-stimulatory receptor that binds to OX40-Ligand (OX40L) to initiate a cascade, which is required for the activation of T cells. The OX40 receptor agonists have a similar impact as that of OX40L, and increases the OX40 signaling by subsequently reactivating the counter tumor resistant reaction in cancer patients. Currently, there is no approved drug that targets the OX40 receptor, therefore, drug manufacturers are constantly working in the direction to obtain new treatment strategies by targeting OX40 receptor.
Download the sample report at: https://www.pharmaproff.com/request-sample/1244
According to the research findings, majority of the pipeline drug candidates are being developed to be administered by intravenous route. It has been observed that the intravenous route of medication is convenient and provides improved patient's compliance. Administration of OX40 receptor agonists through the intravenous route has shown promising results in clinical studies.
Get the detailed analysis at: https://www.pharmaproff.com/report/ox40-receptor-agonist-therapeutics-pipeline
Positive Clinical Results Play a Pivotal Role in OX40 Receptor Agonists Development
Companies that are involved in developing OX40 receptor agonists have shown positive clinical results in the various phases of drug development. For instance, in July 2018, Kymab Group Limited announced the positive data of phase I trial of KY1005 for the treatment of autoimmune diseases. The data demonstrated that KY1005 had a favorable safety profile and was well-tolerated. In addition, KY1005 was shown to block T-cell-driven inflammation in the skin of healthy volunteers. Kymab Group Limited has further planned to proceed with Phase II clinical trials for the treatment of atopic dermatitis, with additional plans to conduct parallel studies for graft-versus-host disease (GvHD).
It has been observed that many pharmaceutical companies are entering into collaboration and licensing for the development of OX40 receptor agonists and their geographical expansion. For instance, in November 2011, AgonOx entered into an exclusive global partnership with MedImmune LLC to develop agonists using its OX40 platform. Under the terms of the agreement, MedImmune LLC will further conduct preclinical and clinical studies of OX-40 agonists (tumor-specific T-cell immunity stimulator) for the potential treatment of cancer.
Some of the players involved in the development of OX40 receptor agonists are Pfizer Inc., GlaxoSmithKline plc, Kymab Group Limited, MedImmune LLC, AstraZeneca PLC, Bristol-Myers Squibb Company, Incyte Corporation, Innovent Biologics (Suzhou) Co. Ltd., and F. Hoffmann-La Roche Ltd.
The report comprises detailed pipeline analysis of OX40 receptor agonists under development. Comprehensive insights on the pipeline products have been provided, with special focus on strategic developments of key players, information on drug licensing, designations, financing, and grants, technological advancements, patents, and upcoming conferences. In addition, the report highlights the winning strategies of companies involved in the development of OX40 receptor agonists. Detailed regulatory approval procedures in the U.S., Europe, and Japan are also provided in this report. Furthermore, the report contains competitive analysis and extensive information on monotherapies, combination therapies, targets and mechanisms of action, and drug origin with respect to OX40 receptor agonists.
Other Related Reports:
Oral Mucositis Therapeutics
Oral mucositis is the most common side effects of cancer treatment (chemotherapy and/or radiotherapy), and occurs usually in the people suffering from head and neck cancer. It causes damage to mucosal lining of mouth leading to the formation of ulcers and infections. The disease usually occurs within 5–10 days after a chemotherapy treatment in cancer patients.
https://www.pharmaproff.com/report/oral-mucositis-therapeutics-pipeline-analysis
Pancreatic Cancer Therapeutics Market Analysis
Pancreatic cancer instigates in the tissues of pancreas — an organ in the abdomen that lies horizontally behind the lower part of the stomach. Pancreas releases enzymes and hormones, which help in digestion and maintaining blood sugar level in the body. Pancreatic cancer occurs when malignant cells develop in the part of pancreas, resulting in the formation of a tumor, which can be divided into two main groups: exocrine tumor and endocrine tumor.
https://www.pharmaproff.com/report/pancreatic-cancer-therapeutics
Myelofibrosis (MF) Therapeutics – Pipeline Analysis 2019
MF is a rare disease identified by the presence of excessive scar tissues in bone marrow that decreases the hematopoietic capacity of the bone marrow. The genetic mutation in the blood stem cells causes MF. These stem cells produce blood cells, which develop rapidly and prompting aggravation of scar tissues in the bone marrow. Janus Kinases 2 (JAK2), myeloproliferative leukemia virus oncogene (MPL), calreticulin (CALR), and tet methylcytosine dioxygenase 2 (TET2) play a vital role in hematopoiesis and any alterations in JAK2, MPL, CALR, and TET2 genes can be related with MF.
https://www.pharmaproff.com/report/myelofibrosis-therapeutics-pipeline-analysis
About Us:
Pharma Proff, is a frontline market intelligence and consulting solutions provider catering to the information and data needs of burgeoning sectors across the world, including pharmaceutical and healthcare. With meticulously curated research reports on the industry landscape, we empower companies in the healthcare and pharmaceutical sectors to make informed business decisions and base their marketing strategies with astuteness.
Media Contact
Company Name: Pharma Proff
Contact Person: Manish Baghel
Email: Send Email
Phone: +1-347-960-6455
Country: United States
Website: www.pharmaproff.com/report/ox40-receptor-agonist-therapeutics-pipeline