Revenue Explosion Predicted in European Automotive Telematics Market Between 2020 and 2030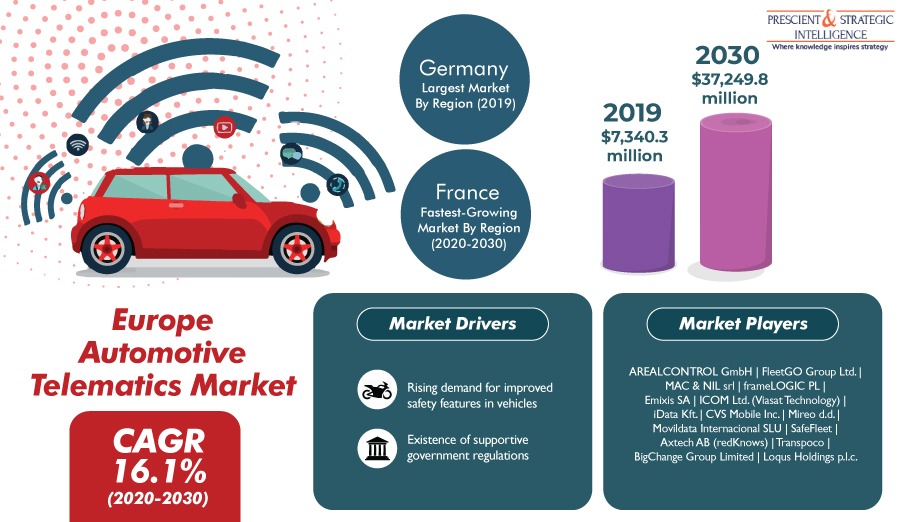 Europe automotive telematics market size is projected to generate $37,249.8 million revenue by 2030 by P&S Intelligence.
The European automotive telematics market attained a value of $7,340.3 million in 2019 and is predicted to advance at a CAGR of 16.1% between 2020 and 2030. Furthermore, according to the forecast of P&S Intelligence, a market research firm based in India, the market would generate a revenue of $37,249.8 million in 2030. The burgeoning requirement for advanced safety features in automobiles and the increasing implementation of supportive government policies are the main factors fueling the expansion of the market.
The rising prevalence of road accidents is the biggest factor responsible for the increasing requirement for enhanced safety features and systems in vehicles. Human error is one of the leading causes of road crashes and casualties in Europe and the rest of the world. According to the Community database on Accidents on the Roads in Europe published in 2018, in the European Union (EU) member countries, 25,600 people lost their lives in road accidents in 2016.
Request for sample copy of this report: https://www.psmarketresearch.com/market-analysis/europe-automotive-telematics-market/report-sample
Apart from the aforementioned factors, the rising enactment of strict and favorable government regulations regarding the usage of telematics solutions in automobiles is also fueling the expansion of the European automotive telematics market. For example, the European Commission has made the adoption of the 112-based eCall in-vehicle alarm system in all N1 and M1 (light-duty vehicles and passenger cars respectively) vehicles sold in the EU countries mandatory from March 31, 2018.
Based on service, the European automotive telematics market is divided into infotainment and navigation, safety and security, remote diagnostics, insurance telematics, fleet/asset management, and vehicle-to-everything (V2X). Out of these, the safety and security category is predicted to demonstrate the highest growth rate in the market, in terms of value, in the future years. The market recorded the highest growth in Germany in the years gone by and this trend is likely to continue in the upcoming years as well.
Browse full report at: https://www.psmarketresearch.com/market-analysis/europe-automotive-telematics-market
Some of the key players operating in the European automotive telematics market are Robert Bosch GmbH, Valeo S.A., Continental AG, MiX Telematics Ltd., Verizon Communication Inc., AREALCONTROL GmbH, FleetGO Group Ltd., MAC & NIL srl, frameLOGIC PL, Emixis SA, ICOM Ltd., iData Kft., CVS Mobile Inc., Mireo d.d., Movildata Internacional SLU, Axtech AB, SafeFleet, Transpoco, BigChange Group Limited, and Loqus Holdings p.l.c.
Market Size Breakdown by Segment
By Product Type
Embedded
Tethered
Integrated
By Service
Safety and Security
Infotainment and Navigation
Remote Diagnostics
Fleet/Asset Management
Insurance Telematics
Vehicle to Everything (V2X)
By Channel
Original Equipment Manufacturers (OEMs)
Aftermarket
By Vehicle Type
Two-Wheeler
Passenger Car
Commercial Vehicle
Construction Machines
By Verticals
Transportation and Logistics
Government and Utilities
Travel and Tourism
Construction
Education
Healthcare
Media and Entertainment
By Offerings
Hardware
Software
Services
By Country
Germany
U.K.
Italy
France
Spain
Netherlands
Rest of Europe
Browse More Related Reports
Automotive Telematics Market – https://www.psmarketresearch.com/market-analysis/global-telematics-market
Germany Automotive Telematics Market – https://www.psmarketresearch.com/market-analysis/germany-automotive-telematics-market
Media Contact
Company Name: P&S Intelligence
Contact Person: Abhishek
Email: Send Email
Phone: +918887787886
Address:Noida Sector 2
City: Noida
State: UP
Country: India
Website: https://www.psmarketresearch.com/market-analysis/europe-automotive-telematics-market