'Arc Shield Visor' by Servore Takes the Lead in Globalization of Welding Masks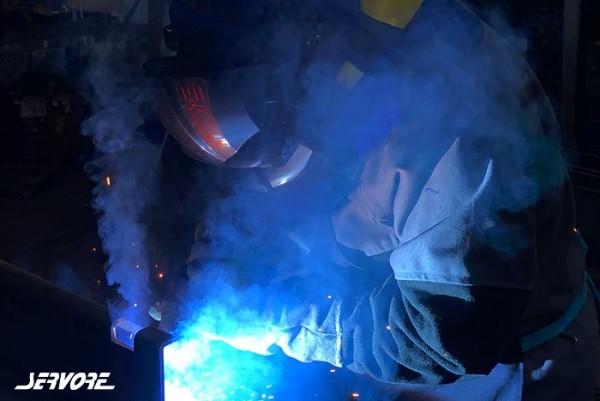 Servore, a Korean welding mask company that protects the health of welders, was established on October 1, 1989, and has been established for more than 30 years. It continues to research and develop and manufacture welding safety equipment such as welding goggles.
Servore has been recognized for its technological progress by developing and commercializing "Servo Glas," the first auto-darkening welding helmet in Asia. It was also the first to localize an auto-darkening welding helmet that protects the eyes and face of a welder from harmful welding rays, arcs, and spatters which appear when welding is in progress.
The welding protective equipment commonly used by weighs more than 500g, and there are many professional welders suffering from musculoskeletal diseases caused by using heavy welding protective equipment. Moreover, many welders suffer from difficulties because they do not have suitable protective equipment in case they weld in a confined space. In addition, if they breathe in fumes, gases, and dust, it may adversely affect their health.
Servore paid attention to the welders' health and came up with 'Arc Shield', an auto-darkening welding mask, which is 50% lighter than the existing welding mask, preventing musculoskeletal disorders experienced by welders, and its small volume makes it easy to carry at all times, giving satisfaction both to welding workers and safety managers.
Among the arc shield series, the arc shield visor is a helmet-type welding mask produced by combining the existing arc shield and headband. The difference from the existing goggle band with a helmet-type headband is that it was designed to lift the stuffy face even when welding. Using a patented smart bracket, the disadvantages that interfere with rotation were removed, the faceted body was slightly pulled forward to make it easy to lift, and it was said that the unpleasant feeling of the silicon skirt was eliminated and it was free from the breath on the surface.
Servore has been researching for more than 30 years to improve the working environment of welders and to produce high quality welding protection products through research and development. In addition, a PAPR respirator with a new concept has been developed under the motto of 'AUTO in safety protective equipment' as a company specializing in automatic welding protective equipment in Korea and is about to be released, which is expected to create a new brand and history.
Media Contact
Company Name: SERVORE CO.,LTD
Contact Person: Mr. Jeong Min, Seo
Email: Send Email
Phone: +82-31-684-6952
Country: South Korea
Website: www.servore.com