SneakERASERS is utilizing Mr. Checkout's Fast Track Program to reach Independent Nutrition Stores Nationwide.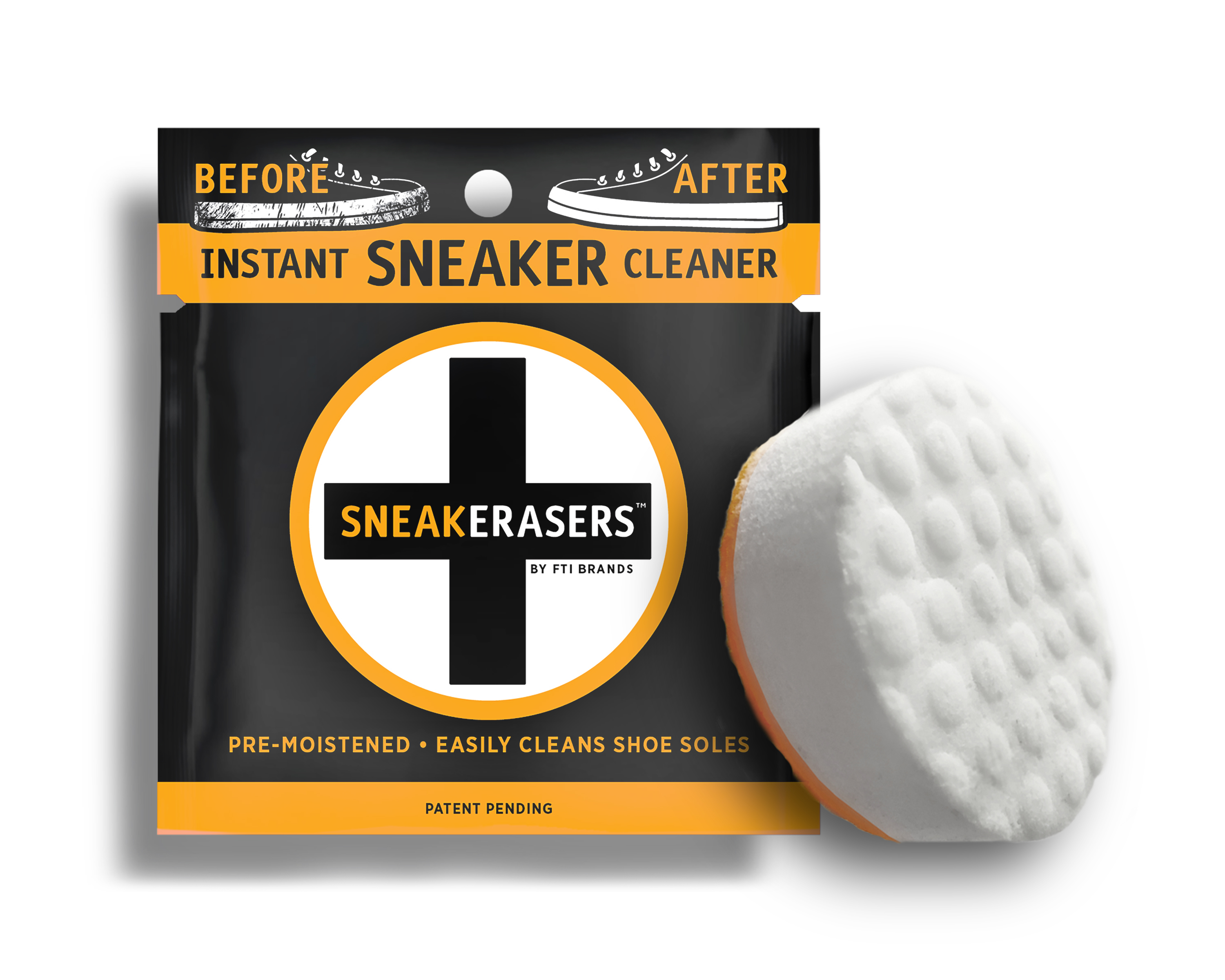 SneakERASERS are pre-moistened "Instant Sneaker Cleaners" that are perfect for sneaker touch-ups on the go!
SneakERASERS Instant Sneaker Cleaners are pre-moistened shoe and sole cleaners that easily remove scuff marks, dirt and grime! With the proprietary cleaning formula and dual-sided technology, you can keep your clean your favorite pair of kicks – wherever you are! Just use the micro-scrubbers to easily buff away scuff marks and flip it over to the soft, shammy side to wipe it clean! Quick, convenient and effective.
UPPER ARLINGTON, Ohio – Feb 19, 2021 – FTI Brands' SneakERASERS Instant Sneaker Cleaner is Utilizing Mr. Checkout's Fast Track Program for Independent Retail Expansion.
SneakERASERS, a shoe care product manufactured by FTI Brands, are "instant sneaker cleaners" designed to keep your favorite pair of kicks looking like new. The product's innovation comes from the dual-sided composition of micro-scrubbers and soft shammy that is pre-moistened–making it the ultimate, most convenient shoe cleaner on the market today.
Customers simply open the sealed pouch to unveil a multi-layered sponge that is ready to buff away those nasty scuff marks and dirt from midsoles and logos. Every aspect of the cleaner has been constructed for shoe care – both with a durable eraser for easy cleaning and a shammy layer for sensitive materials.
Today's fashion has witnessed an increase in casual, comfortable sneakers and a decline in leather business shoes. As an update to the antiquated shoe polish, SneakERASERS are the "sneaker cleaner wonders" of the white midsole, easily removing pesky scuff marks, dirt, and grime, without the use of harsh chemicals.
"The athleisure trend is here to stay," said Kevin Consolo, Co-Founder of FTI Brands. "So many of us are wearing these comfortable shoes in all settings, with bright, white midsoles; and we swear if you just look at them wrong, they get dirty! We wanted to create something that is effective on sneakers yet convenient enough to be able to use for touch-ups on the go. They are a perfect companion for your purse, gym bag, or luggage, allowing you to look more put together in just a few seconds."
SneakERASERS are more convenient (and less messy) than a bulky brush kit and more effective on scuff mark emergencies than a sneaker wipe. FTI Brands has also created a multi-pack of 10 dry sponges for deep cleaning at home. The SneakERASERS 10-pack gives the customer versatility by keeping these sponges under your sink to make sure your shoes are looking new and clean in all situations.
For more information, please visit www.SneakERASERS.com.
About FTI Brands:
FTI stands for "Free To Innovate," and Co-Founders Chris Pavlica and Kevin Consolo have made it their company mission to continue to create innovative cleaning methods that are easier, quicker, and more convenient. Guided by this mantra, the "ERASERS" product family has expanded into auto care with AutoERASERS (Instant Auto Detailing for car exterior and interior touch-ups in between car washes), and golf with GolfERASERS (Instant Golf Cleaners for accessible, effective golf club, ball, and shoe cleaning in between shots and rounds).
For more information, visit www.ftibrands.com.
Media Contact
Company Name: FTI Brands, LLC
Contact Person: Kevin Consolo
Email: Send Email
Phone: 424-322-0382
Country: United States
Website: https://nutritionretail.com/featured-item/sneakerasers/