Leadership Book Humanizes Business and Ignites Human Potential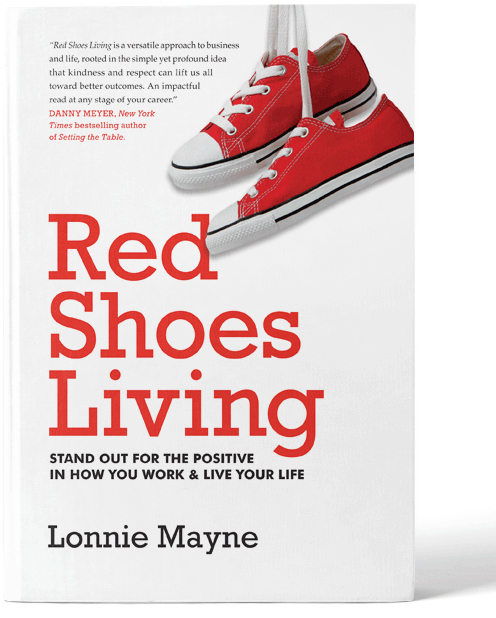 In his book, 'Red Shoes Living: Stand Out for the Positive in How You Work & Live Your Life', motivational speaker Lonnie Mayne offers leaders a powerful framework for humanizing business and igniting human potential.
The Red Shoes philosophy is embedded in the mission to help people live their best lives, and by extension, improve the lives of those around them. The author of Red Shoes Living, Lonnie Mayne, explains how the roots of this philosophy reach back to when he was a child and have evolved from meeting so many meaningful people throughout his life. This philosophy is based on five basic principles: put yourself out there, respect and kindness, everyone has a story, gratitude, and awareness. They are meant to aid people in gaining perspective in their lives, starting with the little things. Red Shoes creates a standard of living where one focuses on the positive and aims to radiate that positivity to others creating meaningful human relationships. Not only is this an ideal way to live one's life, but it translates very effectively to the business world.
The Red Shoes philosophy maintains that companies need to see their employees, customers, and partners as human beings. It also emphasizes the importance of the boss setting an example, maintaining boundaries and expectations, and to not allow complacency to occur. Establishing a respectful environment while inspiring clear goals and objectives also promotes accountability. This drives innovation and leadership, which in turn, elevates the customer experience and the quality of personal and professional living.
When you truly see someone as a human being and make that connection, it allows you to notice and nurture that person's talents. Therefore, the company is elevated by seeking ways to bring employees to higher levels. The Red Shoes philosophy is not an easy standard to live by; it takes a serious level of dedication. Being able to stand out in the positive and showing up consistently as the best version of one's self truly reflects the Red Shoes way of life. These individuals and companies genuinely stand out and inspire others to do the same.
Lonnie Mayne – Red Shoes Living
Many concepts come and go, but Lonnie Mayne's Red Shoes Living has immediate and lasting impact. Red Shoes Living is a mindset, philosophy, and an actionable five-step framework, which is an inspiring, meaningful, and unforgettable message that is perfect for our time. Red Shoes Living is unique, powerful, and designed to humanize business and ignite human potential. Red Shoes Living is applied in leadership, diversity and inclusion, culture, customer experience, and in the way one lives their life.
Lonnie Mayne is the author of the acclaimed book, Red Shoes Living – Stand Out for The Positive in How You Work and How You Live. It is a deeply meaningful philosophy that guides us to stand out in everything we do. Mayne is an internationally recognized leadership authority and award-winning keynote speaker. Mayne is in high demand and is working both virtually and in person. He is also an executive coach, author, and podcast host. Companies are lining up during these challenging times to bring Red Shoes Living to their teams, knowing it will have an instant and transformative influence on their business and on their lives.
Lonnie Mayne is a former technology and turnaround executive and has spent 30 years working with leading brands across 25 industries. Mayne has presented at the Palace of Westminster and works with Olympians, professional athletes, politicians, business executives, military leaders, tech leaders, leadership influencers, Fortune 100 executive, top-level CEOs, entrepreneurs, and founders of some of the most progressive companies of our time. A few of Mayne's clients include: Microsoft, McDonald's, Nike, Bose, Chicago Mercantile Exchange, Spartan, Los Angeles Chargers, Transamerica, Saks Fifth Avenue, and many more.
Read What Some Happy Conference Organizers Have to Say:
"Lonnie Mayne was an incredible presenter! The attendees loved him. As an event planner who is responsible for many large meetings annually, I can't say enough about how wonderful Lonnie and his team were to work with. Lonnie was energetic, engaging and inspirational. He was the perfect speaker for this time in our nation and world. He was definitely the highlight of our conference!"
Lisa Dunn – Director of Conference Services
Alabama Bankers Association
"I first heard Lonnie Mayne make a very powerful presentation at an ALHI leadership function and I knew that Lonnie would be a great inspirational speaker for our GOCA national meeting. I also knew that bringing in a speaker like Lonnie was a profound departure from our classic format of doing an immediate deep dive into our world of International Industrial Partnerships. However, I had no idea that Lonnie's presentation would send our entire three-day gathering on an upward spiral of positivity and having everyone thinking "how can I live my life to the fullest and make a positive difference along the way."
In the days that followed Lonnie's presentation, almost every speaker and presenter made some reference to Lonnie Mayne and Red Shoes Living, and more than half of our 250 delegates took the time to personally thank me for welcoming Lonnie into our gathering. As you listen to Lonnie's stories, you will walk away with your own personal takeaways, and I am confident that you will be moved and inspired by Lonnie's enrichment of your event."
Dov Hyman – Director of Conferences – Global Offset Countertrade Association
"I will admit that I was apprehensive that a virtual presentation would be impactful and fully engage our team. But with 323 restaurants in 17 states (and in the middle of a Coronavirus pandemic), a virtual conference was our only option.
We invited Lonnie Mayne to speak at the conference and it was better than we ever imagined it would be. Lonnie is an engaging and accomplished speaker in person, but in the virtual presentation, he also had a strong connection to the audience, because each attendee had a front-row seat.
Lonnie's message was meaningful, impactful, and inspirational. He bonds with his audience without the hyped-up and forced animation that is typical of most motivational speakers. His presentation style was conversational and warm. He truly offered valuable information to the conference attendees.
I whole-heartedly recommend Lonnie Mayne and his Red Shoes Living presentation – he is impressive both in person and on a virtual platform."
Roland Spongberg – President & CEO WKUSA
Media Contact
Company Name: OtterPR
Contact Person: Allie McLaughlin
Email: Send Email
Phone: 800.648.6854
Country: United States
Website: www.OtterPR.com