Charlotte Barbers Sending Kids Back to School With More Than Haircuts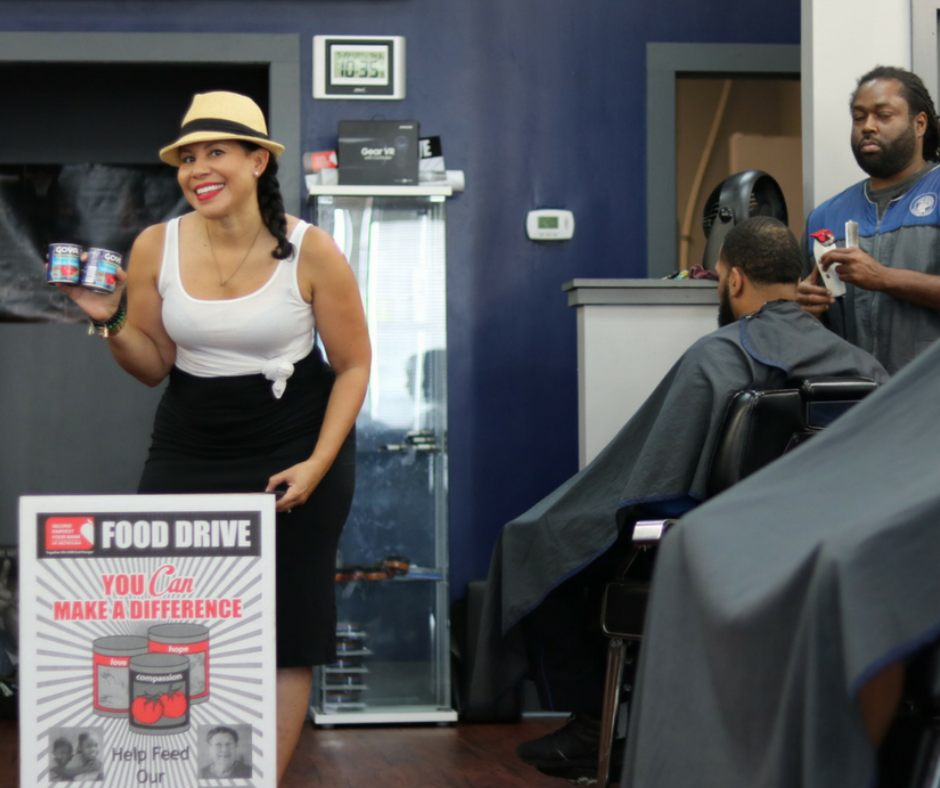 Season Bennett, CEO of The Social Barber started the food drive 7 years ago to bring positivity to the Charlotte community.
The 7th Annual Charlotte Barbers Care City Wide Food Drive runs from 8/13-8/20.
It's time for back to school and several Charlotte area barbers are making sure that kids in the area will have enough to eat. Charlotte Barbers Care is hosting its 7th Annual Food Drive from August 13th to August 20th. The drive will benefit the Second Harvest Food Bank of Metrolina. The food bank provides food to those in need in the greater Charlotte area. Traditionally, this annual food drive occurs when food bank donations are at their lowest point. Second Harvest supplies provides food to several programs that benefit children in need such as the Backpack Program, Kids Cafe, School Based Mobile Pantry and School Based Snack Programs.
The drive originally started out as a drive at Headlines Barber Shop. To date, the drives haveyielded over 55,000 pounds of food for Charlotte families in need. This year's food drive is sponsored by the following businesses:Booksy, Inc, The Social Barber, The Barberville Festival and Premium Direct Medical, Premier Pharmacy and Wellness Center. Patrons of Premium Direct Medical and Premier Pharmacy and Wellness Center can donate money on site.
Season Bennett and her husband, Derrick, own Headlines Barber Shop. When the food drive first started out, it was solely at their location but over the years has grown to include other barber shops across the city. "Our goal is to set the kids up for success for the upcoming school year. It's really hard to do your best in school when you are hungry," says Season.
Continuing in that same tradition, this year's food drive will be called #CharlotteBarbersCare Food Drive with a goal of collecting 10,000 pounds of food (a little more than $1400). Donating money goes a long way as just $1=7 pounds of food. In addition, collaboration is a huge part of this effort, so there is a secondary goal to get 500 donations. The group wants to create a "wave of positivity that everyone can be a part of." The last day to donate is Tuesday, August 20th.
The public is encouraged to make donations to benefit the food bank. Throughout the drive, the public is encouraged to share pictures on social media with the hashtag: #CharlotteBarbersCare.
Here is a list of all of the barber shops and participating locations:
Bennett's Barber Shop
Blendsorial
Freshen Up
Headlines Barber Shop
Kuttmasters Barber Shop
Overton's Barber Shop
Premier Grooming Lounge (2 locations)
Premier Grooming Academy
The Grooming Lounge (3 locations)
Touch of Precision
Universal Cuts
Xclusive Kutz
You can also make monetary donations online at www.charlottebarberscare.com or on Go Fund Me: https://www.gofundme.com/f/charlotte-barbers-care-food-drive?teamInvite=NHvyGc0jkwD5MXUGB5Pm2BrWjtKFIi3gZ8hAbt0JezG86R9ZHH80nbSLGS6xnHOE.
All donations go directly to Second Harvest Food Bank of Metrolina and are tax deductible.
Media Contact
Company Name: The Social Barber
Contact Person: Season Bennett
Email: Send Email
Phone: 980 819 1294
City: Charlotte
State: NC
Country: United States
Website: www.charlottebarberscare.com