KTGY's Design Excellence and Innovation Honored at 2020 Great American Living Awards (GALA)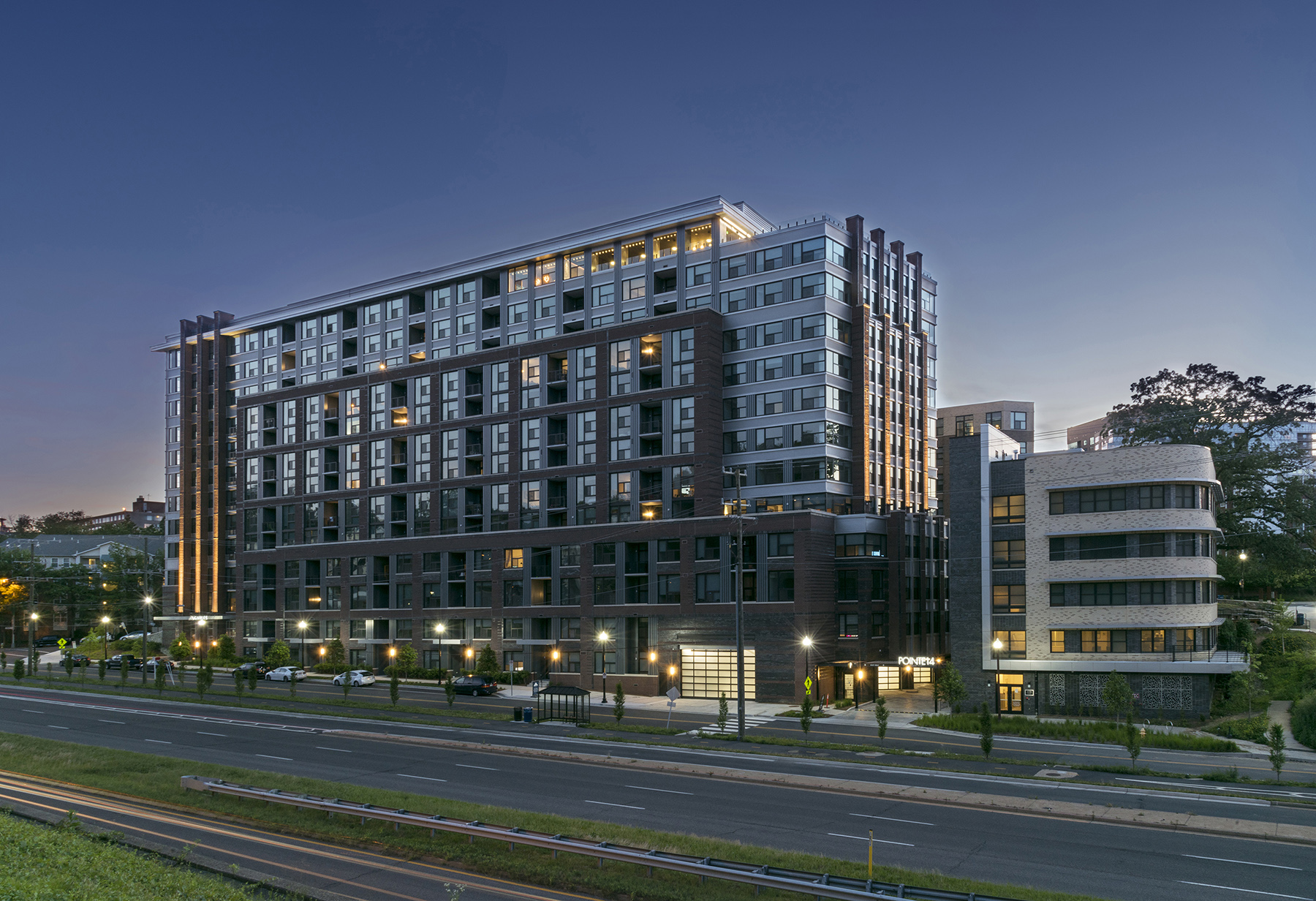 Designed by KTGY Architecture + Planning, Gables Pointe 14 in Arlington, Virginia won GALA's Design and Architecture, Multi-Family – New Construction Award. The new residential community is LEED Gold certified. (Photo credit: Anne Chan)
TYSONS, Va. – KTGY Architecture + Planning, a leading full-service design firm focused on residential and mixed-use developments, sustainability and neighborhood revitalization in the U.S., announced today that the firm's designs and architecture have earned nine honors in the 2020 Great American Living Awards (GALA) program, the most prestigious residential design, sales and marketing competition in the metropolitan Washington, D.C. market for more than 50 years. The awards, which were presented by the Maryland Building Industry Association, the Northern Virginia Building Industry Association and the Washington Metropolitan Sales and Marketing Council, recognized KTGY's wide range of capabilities, excellence and innovation in the design and planning of attached and detached single-family and multifamily residential communities.
KTGY received eight Grand Awards in the following design and architecture categories:

Detached Home (on lots 7,000 s.f. and over), $400,001 – $500,000
The Lewis at Avalon Woods in Fredericksburg, Virginia
Builder: Atlantic Builders
Architect: KTGY Architecture + Planning
Distinctive yet traditional is the best way to describe these 3,000+ square-foot homes that are designed to meet the need for homes attainable to new and move-up buyers in the area. Strict design guidelines guided the elevation materials and styles which include: Federal, Farmhouse and Craftsman. Vertical and Shaker-style siding, brick, front porches and optional dormers reinforce the aesthetic. The foyer opens to the dining room and study/flex space giving homeowners the opportunity to greet guests with a formal style or a more casual gathering space. The study/flex space is optional as a guest suite with an attached bath. The family room, breakfast area and kitchen are open and encourage families to gather. The kitchen connects to the garage via a large mudroom that can be used for extra storage for backpacks, and dirty shoes and coats. Upstairs, the primary bedroom includes a large shower, two vanities and a generously sized closet. Three additional bedrooms, a loft, laundry room and bath complete the upstairs. Options allow homeowners to finish the basement level ideal for a recreation room, a full bath, a den or a fitness/hobby.
Attached Home including Townhouses, Two-over-Two's, Back-to-Back Townhouses and Duplexes, Fee Simple and Condo-Ownership, Under $300,000
The Devon at Regency Crossing in Fredericksburg, Virginia
Builder: Atlantic Builders
Architect: KTGY Architecture + Planning

Charming two- and three-level townhomes with a traditional architectural design style deliver affordable and sophisticated housing to the suburban neighborhood. The traditional Federal-style townhomes offer varying facades expressed through the choice of materials. Lap-siding in varying colors and a stone watertable at the first level serve as transitions delineating the homes and creating a captivating aesthetic. Cantilevered bay windows add dimension to the facade and blend indoor-outdoor spaces. The ground floor contains a one-car garage with a spacious recreation room that can flex as an optional bedroom. Main living is on the second level featuring the family and dining room, with options for a mid- or rear-kitchen space. The third level contains the sleeping quarters with the option for two primary suites or three bedrooms. The home offers entry-level living for young families, professionals and couples to grow and flourish in a space of their own. Located near shopping and dining and the Interstate 95, the community connects homebuyers with everything they need to keep up with their fast-paced lifestyles, all within a modern suburb.
Attached Home including Townhouses, Two-over-Two's, Back-to-Back Townhouses and Duplexes, Fee Simple and Condo-Ownership, $350,001 – $400,000
Dixon at Watson's Glen in Millersville, Maryland
Builder: Winchester Homes
Architect: KTGY Architecture + Planning
The fresh and emerging townhome community located in the suburban area of Millersville, Maryland delivers high design living at lower price points. This community sits near neighboring cities of Annapolis and Baltimore providing accessibility to local shopping malls, dining and entertainment. A mix of materials such as vertical and horizontal siding with hints of stone and bright contrasting colors creates a charming façade that is highly appealing while staying within the community's lower price point. The architectural design incorporates traditional, Farmhouse or Craftsman style. The homes are designed on small lots offering unique floor plans with rear yards, delivering large living within a tight footprint. The front-loaded two-car garage sits on the lower level of the home with a spacious recreation room and a flex option for a bedroom and full bath. The living area is located on the second level with an expansive open layout and bright grand kitchen. The third level contains a large primary suite with two secondary bedrooms, with the option to flex into a dual primary suite. This home is a great choice for lower- to middle-income families providing attainability and sophisticated design within a great neighborhood.
Attached Home including Townhouses, Two-over-Two's, Back-to-Back Townhouses and Duplexes, Fee Simple and Condo-Ownership, $500,001 – $600,000
Georgetown at Glenmont MetroCentre in Silver Spring, Maryland
Builder: Dream Finders Homes
Architect: KTGY Architecture + Planning

Located in central Montgomery County, Maryland, and adjacent to the Metro Station on the Red Line, sits a boutique community of 46 luxury townhomes in Silver Spring. Working within strict design guidelines, KTGY delivered a seamless façade, establishing a clean and uniform building height despite the varied plan levels of three and four stories. Alternating red brick and cream siding adds dimensionality and interest. All homes have outdoor spaces on the main living level with four-level residences providing an outdoor terrace adjacent to an optional loft or loft plus a third bedroom on the top floor allowing for a larger second bedroom on the sleeping/living level of the home. The tight footprint is expanded by an open-layout, main entertaining level capped with oversized windows filling the space with light. Stairs are tucked to the side allowing for uninterrupted movement. Options for the kitchen to be located at the center or rear of the plan allow this home to feel custom. Homes provide two-car garages and adjacent to access to interstates 495, 270 and 370. They are also just steps away from the metro station. The location provides homeowners with easy access to everything that the Metro Area has to offer including shopping and dining in nearby Bethesda, along with the history and culture of Washington, D.C.
Attached Home including Townhouses, Two-over-Two's, Back-to-Back Townhouses and Duplexes, Fee Simple and Condo-Ownership, $600,001 – $700,000
Chase at North Quarter in Bethesda, Maryland
Builder: Winchester Homes
Architect: KTGY Architecture + Planning
The contemporary architectural design of this new townhome reflects the urban surroundings of the North Bethesda neighborhood. In close proximity to the Metro and downtown Rockville, this home adds to the community's existing urban core. The façade is influenced by a mix of contemporary and industrial design styles showcased by the mix of brick and cementitious panels, cantilevered metal awnings, horizontal metal railings and asymmetrical window patterns. The two-car, rear-loaded garage located on the ground floor provides access to the family entry with a mudroom and recreation room that may flex as a finished study space or bedroom with a full bath. The main living area is contained on the second level with an expansive open layout flooding the entire space with light. The great room with an optional fireplace and rear kitchen with a large island and an optional rear deck, are all ideal for hosting guests. The third level opens onto a grand primary suite with two secondary bedrooms, and an optional stair leading to the private rooftop terrace. This home represents the very best of modern-day living providing residents with options to elevate their indoor-outdoor living experience, while in a prime location connected to the captivating and thriving North Bethesda neighborhood.
Attached Home including Townhouses, Two-over-Two's, Back-to-Back Townhouses and Duplexes, Fee Simple and Condo-Ownership, Over $850,000
The Shiloh at Valley & Park in Reston, Virginia
Builder: Toll Brothers
Architect: KTGY Architecture + Planning
Delivering an urban feel to a suburban neighborhood, the design of the community was inspired by the industrial warehouse-style. The use of red and brown brick, dark windows and dark washed metal accents reinforce the warehouse feel. Dark fiber cement paneling was combined with dark metal accents and black casement windows to further push the style. Responding to site grade changes, designers created two entry types providing visual façade variation and a heightened level of design. The urban exterior flows into modern interiors. Ample large windows allow for an abundance of light to flood the spaces, including the primary bathroom, without compromising privacy with a high window above the vanity. The gourmet kitchen opens to the living space, a walk-in pantry, covered and uncovered outdoor terrace on the fourth floor with views to the Reston National Golf Course. The loft-level outdoor living is ideal for entertaining with an optional fireplace, wet bar, and gas line for grill. An option for up to five bedrooms includes a ground-floor bedroom suite that can flex as additional living space. Ideally located in an up-and-coming neighborhood, adjacent to an 18-hole public golf course, near jobs and the main commuter route, this home is the perfect choice for young families and multigenerational living.
Multi-Family, New Construction
Gables Pointe 14 in Arlington, Virginia
Builder: Gables Residential
Architect: KTGY Architecture + Planning
Gables Pointe 14 is a new, sustainable mixed-income residential community situated on a 2.17-acre triangular-shaped site near transit in the Fort Myer Heights neighborhood of Arlington, Virginia, just north of Route 50. It consists of three buildings: a 12-story residential building comprised of 307 units; an eight-story residential building comprised of approximately 88 units; and a five-story 16,500-square-foot transitional living facility comprised of approximately 14 units. There is a significant grade change of approximately 50 feet from the northwest corner to the southeast corner of the site. The two larger residential buildings are located on the western portion of the site and are separated by a large, lushly landscaped, private courtyard that is accessed both from North Rolfe Street and an 8,000-square-foot public park. Amenities include community rooms, fitness center, media room, pet wash, large exterior plaza deck and a rooftop pool deck with spectacular views of Washington, D.C. The design of the buildings incorporates Art Deco elements. Varying design features, including step backs, tapering, and material changes help break up the buildings' facades. Gables Pointe 14 is LEED Gold certified.
Free-Standing Club House
Birchwood at Brambleton Clubhouse in Brambleton, Virginia
Builder: Brambleton Group LLC
Architect: KTGY Architecture + Planning
Indoor and outdoor pools, yoga studio and fitness center, demonstration/catering kitchen, arts and crafts studio, game rooms, indoor and outdoor bars all architecturally perfected in this two-level, 20,000-square-foot "residents only" retreat, which overlooks a lake as the centerpiece of Birchwood at Brambleton. Birchwood at Brambleton is an award-winning, active adult community located in the heart of Loudoun County, Virginia and one of the top-selling master-planned communities in the nation. Other amenities at the clubhouse include a theater room and a golf simulator room. Birchwood at Brambleton offers residents easy access to primary commuter routes including Route 50, the Dulles Greenway and Dulles Toll Road. The nation's capital is only 25 miles away and Dulles International Airport is just 4 miles away. To the west, the bucolic Blue Ridge Mountains beckon with historic Middleburg, wineries, craft brewers and endless outdoor adventure.
KTGY received one Award of Merit in the following design and architecture category:

Detached Home (on lots under 7,000 s.f.), Over $850,000
Lorton at Giles Overlook in Lorton, Virginia
Builder: Lennar
Architect: KTGY Architecture + Planning
Located in Lorton, Virginia, near Fort Belvoir and Alexandria and just 20 minutes from Washington, D.C., this single-family home community offers attainable housing within a prime location. The traditional style homes offer varying façades reflected through the selection of materials. Vertical siding and stone serve as transitions together with metal roof, awnings and modern farmhouse detailing adding a contemporary flair to the aesthetic. The open concept layout of the home contains living, dining, great room and open kitchen on the ground floor. Stairs lead to the second-level sleeping quarters with an expansive primary suite and private bath. The separation between levels of the home allows each space to serve its function. Community amenities include tot lot and a walking trail. Convenient to commuting routes, the fresh community delivers an exceptional single-family living option ideal for move-up buyers and growing families.
The GALA Ceremony was held virtually on February 18, 2021. For more information about the awards, visit www.greatamericanlivingawards.com.
About KTGY Architecture + Planning

Founded in 1991, KTGY Architecture + Planning is a leading full-service design firm focused on residential and mixed-use developments and neighborhood revitalization. KTGY seamlessly delivers innovation, artistry and attention to detail across multiple design studios, ensuring that clients and communities get the best the firm has to offer no matter the building type or location. KTGY's architects and planners combine big picture opportunities, leading-edge sustainable practices and impeccable design standards to create memorable destinations of enduring value. KTGY serves clients worldwide from six office locations including Chicago, Denver, Irvine, Los Angeles, Oakland and Tysons (Virginia).
See www.ktgy.com.
Media Contact
Company Name: KTGY Architecture + Planning
Contact Person: Brianne Wagner, Marketing Manager
Email: Send Email
Phone: 888.456.5849
Address:17911 Von Karman Avenue, Suite 200
City: Irvine
State: California
Country: United States
Website: http://ktgy.com