Kokonanny Wins Best Invention Award at the World's Largest Invention Competition
Kokonanny was recently awarded the Gold Medal for Best Invention at the 48th International Exhibition of Inventions of Geneva ("IEIG"). IEIG is recognized as one of the most prestigious innovation exhibitions and is one of the top three events held in Geneva, Switzerland devoted to inventions and innovations. In awarding the prestigious distinction, Kokonanny was praised for its excellence in product innovativeness and functionality.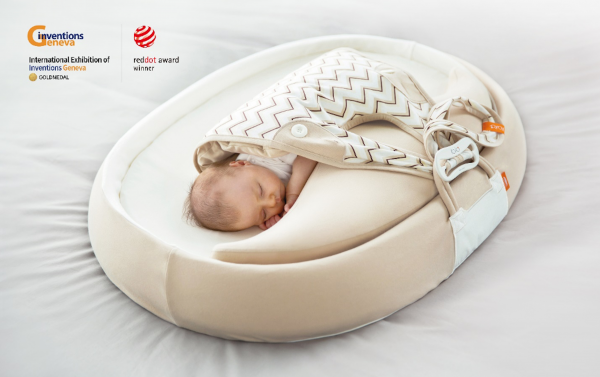 Kokonanny is a bassinet using ergonomic design and material to improve the quality of a newborn's sleep. The innovative concept behind the product is to create the best sleep-inducing environment simulating that of an infant being embraced in a caregiver's arms. It provides the infant with comfort and stability in their own sleeping space while alleviating the physical stress on the caregiver.
The benefits to improved quality of sleep have been verified through clinical trials. The results showed an increase in an infant's sleep time by an average of 70 minutes per sleep while decreasing the number an infant wakes up during the night by 40 percent. These also translated to significant improvements for the caregiving, increasing daily sleep time by 110 minutes.
In 2018, Kokonanny was also awarded the Red Dot Award, a distinction established as one of the most sought-after seals for excellence in product design and quality. Kokonnay is currently patented in 21 countries, including the United States, Japan, Germany, and Switzerland.
Media Contact
Company Name: JUNE.F Co.,Ltd
Contact Person: Media Relations
Email: Send Email
Phone: 1577-0652
Country: South Korea
Website: http://www.kokonanny.co.kr/index.html