Honickman Law Announces New Website Launch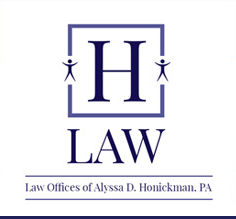 FORT LAUDERDALE, FL – June 03, 2021 – Alyssa D. Honickman is proud to announce the launch of its newly designed website at https://www.honickmanlaw.com. The new site features easy access to the multiple practice areas that Honickman Law offers. Ms. Honickman is the owner and operator of this boutique law firm that focuses on meeting client's needs. Alyssa D. Honickman focuses on Family Law cases and domestic violence cases. This new website offers the audience easy navigation, a clean interface, and a mobile-friendly page that can easily find the information they are looking for.
"I have created a website that works much better for our clients and prospective clients," said Alyssa Honickman. Honickman Law has established a strong position in the South Florida market by specializing in family law.
Alyssa D. Honickman was born and raised in Ocala, Florida, and attended Florida schools for education. Ms. Honickman has tried over 150 jury trials, including misdemeanors, felonies, domestic violence cases, and has tried over 80 family law trials. Ms. Honickman's patience and ability to effectively communicate with her clients and opposing counsel put her clients at ease during the complicated process of family litigation.
Honickman Law is located at 1408 South Andrews Avenue Fort Lauderdale, Florida 33316 and 433 Plaza Real #275, Boca Raton, FL 33432, USA (Boca office is by appointment only). You can conveniently check Honickman's location using google maps.
"Trust our law firm to help you navigate through the chaos and achieve the best result for your family." – Alyssa D. Honickman, P.A.
Keep up with Law Offices of Alyssa D. Honickman, P.A. on YouTube: https://www.youtube.com/channel/UCOY53uDmanN3ynYyEeXwgQQ.
Media Contact
Company Name: Honickman Law
Contact Person: Alyssa D. Honickman
Email: Send Email
Address:1408 South Andrews Avenue
City: Fort Lauderdale
State: Florida 33316
Country: United States
Website: https://www.honickmanlaw.com/