Sarcopenia Pipeline Insight 2021 by DelveInsight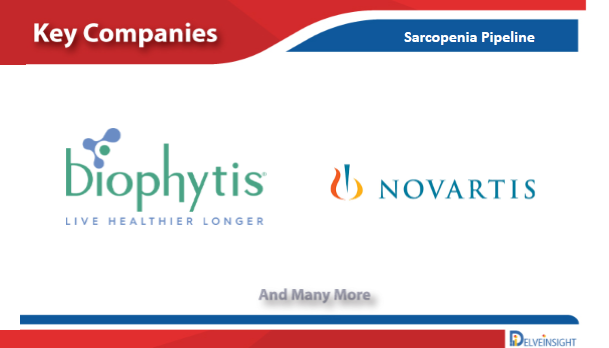 "Sarcopenia Pipeline" report has been added to DelveInsight
Sarcopenia Overview
Sarcopenia is a condition that is characterized by loss of muscle mass, muscle strength, and functional muscle impairment with aging. The definition has been through various alterations. However, an enormous recent breakthrough is the inclusion of the condition in the ICD-10 classification of diseases. The physical consequences of this disease put a person at risk for falls, fractures, and hospitalization, thereby affecting the quality of life and death in extreme cases.
Sarcopenia Pipeline Insights
DelveInsight's, "Sarcopenia – Pipeline Insight, 2021," report provides comprehensive insights about 10+ companies and 10+ pipeline drugs in the Sarcopenia pipeline landscape. It covers the pipeline drug profiles, including clinical and non-clinical stage products. It also covers the therapeutics assessment by product type, stage, route of administration, and molecule type. It further highlights the inactive pipeline products in this space.
Request free sample copy- https://www.delveinsight.com/sample-request/sarcopenia-pipeline-insight
Regions covered
The etiology of sarcopenia is a constellation of factors involving the aging neuromuscular machinery (motor unit number and efficiency, muscle architecture and orientation, fiber type distribution), reduced anabolic hormone levels, muscle disuse, and inflammation, driven by environmental, genetic, and behavioral factors.
Sarcopenia Symptoms
Symptoms can include weakness and loss of stamina, which can interfere with physical activity. Reduced activity further shrinks muscle mass.
Sarcopenia Diagnosis
Diagnosing Sarcopenia with contemporary operational definitions requires assessments of muscle mass, muscle strength, and physical performance. Screening is recommended for both elderly patients and those with conditions that noticeably reduce physical function. The condition is highly prevalent in orthopedic patient populations and correlates with higher hospital costs and rates of falling, fracture, and mortality.
Sarcopenia Treatment
Trials with various agents, including selective androgen receptor modulators and myostatin inhibitors, show promise as future treatment options. To date, methodological challenges and controversies regarding how best to define the condition, in addition to uncertainty about what outcome measures to consider, have delayed research into possible therapeutic options. To achieve that, increased awareness of sarcopenia is of great importance to begin reaching a consensus on diagnosis and to contribute to finding a cure for this condition.
Current Major Sarcopenia Treatment options
Nutritional supplementation
Resistance training
Physical activity
Whole Body Vibration therapy
Sarconeos (BIO101): Biophytis
Biophytis' lead drug candidate, Sarconeos (BIO101), is an orally administered small molecule in development for the treatment of neuromuscular diseases. Preclinical data demonstrated that Sarconeos (BIO101) for the treatment of sarcopenia has beneficial effects on muscle function and increases muscle strength and mobility in animal models. It activates the MAS receptor in muscle cells, a key component of the Renin-Angiotensin System (RAS).
Novartis "breakthrough" drug bimagrumab is currently being evaluated for the treatment of sarcopenia and has demonstrated good safety and efficacy profile in phase III trials. Bimagrumab is a human monoclonal antibody that binds to type II activin receptors and prevents the binding of its ligands (e.g., myostatin, activin A). These ligands normally act as inhibitors of muscle growth and protein anabolism; bimagrumab lifts this inhibition and can increase muscle mass in young and older adults.
Sarcopenia Emerging Therapy Assessment
Research is underway to identify therapeutic targets and develop a curative therapy for the treatment of sarcopenia. But, the current sarcopenia pipeline is poor with very few industry-funded trials. Some of the potential candidates are elaborated on below.
Request free sample copy- https://www.delveinsight.com/sample-request/sarcopenia-pipeline-insight
Table of content
Introduction
Executive Summary
Sarcopenia: Overview
Pipeline Therapeutics
Therapeutic Assessment
Sarcopenia – DelveInsight's Analytical Perspective
In-depth Commercial Assessment
Sarcopenia Collaboration Deals
Late Stage Products (Phase III)
Bimagrumab: Novartis
Mid Stage Products (Phase II)
BIO101: Biophytis
Pre-clinical and Discovery Stage Products
Inactive Products
Sarcopenia Key Companies
Sarcopenia Key Products
Sarcopenia- Unmet Needs
Sarcopenia- Market Drivers and Barriers
Sarcopenia- Future Perspectives and Conclusion
Sarcopenia Analyst Views
Sarcopenia Key Companies
Appendix
Sarcopenia Pipeline: Key questions answered
How many companies are developing Sarcopenia drugs?
How many Sarcopenia drugs are developed by each company?
How many emerging drugs are in mid-stage, and late-stage of development for the treatment of Sarcopenia?
What are the key collaborations (Industry–Industry, Industry-Academia), Mergers and acquisitions, licensing activities related to the Sarcopenia therapeutics?
What are the recent trends, drug types, and novel technologies developed to overcome the limitation of existing therapies?
What are the clinical studies going on for Sarcopenia and its status?
What are the key designations that have been granted to the emerging drugs?
Media Contact
Company Name: DelveInsight Business Research LLP
Contact Person: Yash Bhardwaj
Email: Send Email
Phone: +919650213330
Address:304 S. Jones Blvd #2432
City: Las Vegas
State: NV
Country: United States
Website: https://www.delveinsight.com/