Hangzhou celebrates National Day for People with Disabilities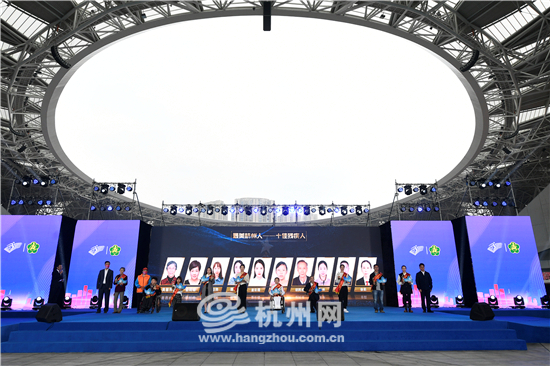 Hangzhou held a series of celebrations on May 13 for the 32nd National Day for People with Disabilities, which fell on May 15 this year.
Ten disabled individuals who have remained positive and strive to improve themselves, as well as 10 who have remained devoted to supporting and helping the disabled, were awarded honorary titles at the event.
Yu Lina, who contracted polio from a viral infection that left her disabled in both legs at the age of three, was among the winners.
She has been encouraged by her parents to study hard, and set up the Hangzhou Goldfinger Shorthand Service Co in 2004, which has developed into the designated shorthand service supplier for the Hangzhou government and media agencies. It has served the G20 Hangzhou Summit as well as provincial and municipal press conferences on COVID-19 epidemic prevention and control.
Chen Zhengda, the designer of the 19th Asian Para Games sports icons, and Li Jie, the designer of the 19th Asian Para Games mascot, donated the design blueprints for the Asian Para Games mascot to the newly-established Hangzhou Disabled Sports Club. This gift will serve as inspiration for the high-quality development of the club in the future.
Students from the Yanglingzi School, a model in Zhejiang province in offering K-12 special education to students aged between four and 20, and Hangzhou athletes who are actively preparing for the Asian Para Games, also celebrated the national day via video calls.
Media Contact
Company Name: The Information Office of Hangzhou Municipal Government
Contact Person: Cai Jingwen
Email: Send Email
Phone: 0510-68559077
Country: China
Website: http://www.ehangzhou.gov.cn/