Hangzhou striving to make manufacturing more intelligent
Thanks to a "smart brain" system, a garment company located in Hangzhou, east China's Zhejiang province is able to monitor its factory's production, real-time inventory and sales of its over 1,500 stores on the five screens it has set up at its exhibition hall. The results of its customer profile analysis are shown on the screens as well.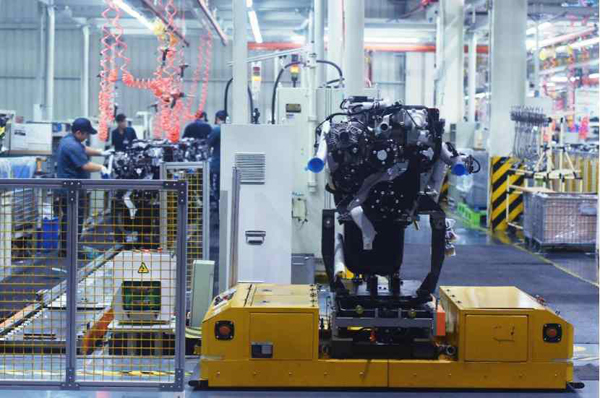 An AI-powered robot carries a heavy truck engine at a factory of SINOTRUK Hangzhou Engine Co., Ltd. located in a robot manufacturing base in Xiaoshan Economic and Technological Development Zone, Hangzhou city, east China's Zhejiang province, Oct. 18, 2021. (People's Daily Online/Long Wei)
"The clothes currently on the production line will be sold in the next couple of days," said a manager of the company.
"Consumer try-on and the deals they make generate big data information that helps us spot the hottest items, so we can soon ramp up production and destock," the manager said.
The manager told People's Daily that the company needs only two days to design a new sample shirt, while the process usually took a week in the past, thanks to the big data technology that enables it to intelligently mix and match over 30 kinds of collars and 50 types of cuffs.
This is an epitome of the prospering manufacturing sector of Hangzhou.
Hangzhou saw its manufacturing investment grow 48.7 percent year on year in the first quarter this year, the highest in nearly a decade. Meanwhile, the structure of the investment has been continuously optimized.
"The manufacturing sector receives the majority of the industrial investment in the city, and a large portion of the investment in the sector goes to the high-tech industry," said Lyu Mingzhong, deputy head of the industrial investment office, Hangzhou Municipal Bureau of Economy and Informatization.
Media Contact
Company Name: The Information Office of Hangzhou Municipal Government
Contact Person: Cai Jingwen
Email: Send Email
Phone: 0510-68559077
Country: China
Website: http://www.ehangzhou.gov.cn/