New novel "Exit Clause" by Philip May is released, a mystery thriller that follows a scandal fixer in Golden Age Hollywood embroiled in a corrupt government plot to control the film industry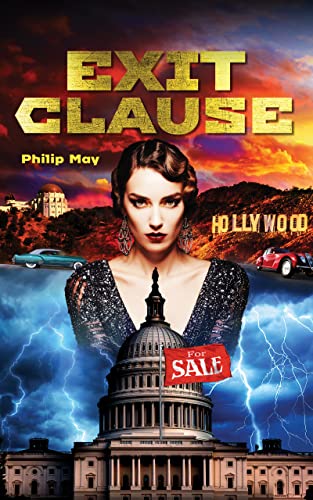 "Exit Clause" by Philip May has been released worldwide. This 295-page thriller is May's second novel following Grant Sharer, an unsung hero in Golden Age Hollywood who specializes in fixing scandals – sometimes by any means necessary. With the Supreme Court forcing major changes on the studios, the Department of Justice coming after the movie moguls, a drug ring vying for power, and trying to help an upcoming actor fight back against discrimination, Sharer has more than his hands full.
This twisting, noir story brings readers right into the action, combining the fascinating history of Hollywood's Golden Age with views of both Tinsel Town's legendary glamour and its unseemly underbelly. A great read for film buffs and mystery fans alike, Philip May's latest installment is rife with scandal, power plays, and Sharer's greatest challenges yet.
Exit Clause (ISBN: 9798985673364) can be purchased through retailers worldwide, including Barnes and Noble and Amazon. The paperback retails for $14.99. Wholesale orders are available through Ingram.
From the back cover:
1948. The Supreme Court is forcing Major Hollywood Studios to sell their movie palaces marking the final curtain for filmdom's Golden Age. The Department of Justice is threatening criminal prosecution for the Tinsel Town's most powerful moguls. Backstage, an international Egyptian heroin ring threatens the future of the U.S.Grant Sharer, the Studio's number one scandal fixer, fighting to help a struggling actor battle discrimination, is caught in an undertow of corruption that leads from the highest court in the land to the lowliest studios on Poverty Row.
Take a thrill ride from Cairo to California. From a secret New York Subway Station to the heights of LA's iconic Planetarium. For Grantland Sharer, pitted against the most powerful men in America, there's only one way out… Exit Clause.
The greatest scandal is not reading it.
About the author:
As primetime Emmy nominated television producer, writer and director at Walt Disney Studios, Phil May filmed on every major studio back lot in Hollywood. As a member of the Writers Guild, Directors Guild and Producers Guild, he worked with such Golden Era stars as Bette Davis, Helen Hayes, Gregory Peck, Jimmie Stewart, many more and avidly garnered their stories.
In retirement Phil teaches College level film classes of his own design; "The Moguls," "McCarthy in the Media," "Film Noir," "America´s Great Mid-Century Directors," "Film Language," "The Hollywood Style," "Hitler Vs. Hollywood," and many others.
As a film historian, teacher and a former insider, Phil wrote Exit Clause to appeal to classic film lovers. "My audience," he says, "is the avid TCM fan, people who love movies and who read."
Every chapter is infused with obscure insights into the history of studios, movie making and the inner workings of the Hollywood Golden Age.
And the lead character, Grantland Sharer, is nuanced and likeable enough to generate a lot of encores.
About MindStir Media:
MindStir Media LLC is an award-winning book publisher. To learn more about publishing a book with MindStir Media, visit http://mindstirmedia.com or call 800-767-0531.
Media Contact
Company Name: MindStir Media LLC
Contact Person: Jen McNabney
Email: Send Email
Phone: 800-767-0531
Address:1 New Hampshire Ave Suite 125
City: Portsmouth
State: NH
Country: United States
Website: https://mindstirmedia.com/